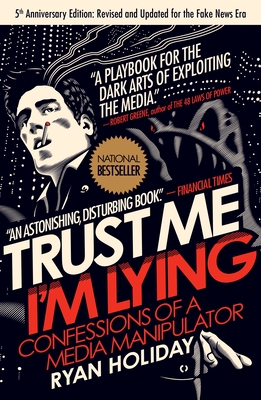 Trust Me, I'm Lying
Confessions of a Media Manipulator
Paperback

* Individual store prices may vary.
Other Editions of This Title:
Digital Audiobook (8/5/2019)
Description
The cult classic that predicted the rise of fake news—revised and updated for the post-Trump, post-Gawker age.
 
Hailed as "astonishing and disturbing" by the Financial Times and "essential reading" by TechCrunch at its original publication, former American Apparel marketing director Ryan Holiday's first book sounded a prescient alarm about the dangers of fake news. It's all the more relevant today. 

Trust Me, I'm Lying was the first book to blow the lid off the speed and force at which rumors travel online—and get "traded up" the media ecosystem until they become real headlines and generate real responses in the real world. The culprit? Marketers and professional media manipulators, encouraged by the toxic economics of the news business.
 
Whenever you see a malicious online rumor costs a company millions, politically motivated fake news driving elections, a product or celebrity zooming from total obscurity to viral sensation, or anonymously sourced articles becoming national conversation, someone is behind it. Often someone like Ryan Holiday.
 
As he explains, "I wrote this book to explain how media manipulators work, how to spot their fingerprints, how to fight them, and how (if you must) to emulate their tactics. Why am I giving away these secrets? Because I'm tired of a world where trolls hijack debates, marketers help write the news, opinion masquerades as fact, algorithms drive everything to extremes, and no one is accountable for any of it. I'm pulling back the curtain because it's time the public understands how things really work. What you choose to do with this information is up to you."
Praise For Trust Me, I'm Lying: Confessions of a Media Manipulator…
"Holiday effectively maps the news media landscape. . . . Media students and bloggers would do well to heed Holiday's informative, timely, and provocative advice."
— Publishers Weekly

"This book will make online media giants very, very uncomfortable."
— Drew Curtis, founder, Fark.com

"Ryan Holiday's brilliant exposé of the unreality of the Internet should be required reading for every thinker in America."
— Edward Jay Epstein, author of How America Lost Its Secrets: Edward Snowden, the Man and the Theft

"[Like] Upton Sinclair on the blogosphere."
— Tyler Cowen, MarginalRevolution.com, author of Average Is Over

"Ryan Holiday is the internet's sociopathic id."
— Dan Mitchell, SF Weekly

"Ryan Holiday is a media genius who promotes, inflates, and hacks some of the biggest names and brands in the world."
— Chase Jarvis, founder and CEO, CreativeLive

"Ryan has a truly unique perspective on the seedy underbelly of digital culture."
— Matt Mason, former director of marketing, BitTorrent

"While the observation that the internet favors speed over accuracy is hardly new, Holiday lays out how easily it is to twist it toward any end. . . . Trust Me, I'm Lying provides valuable food for thought regarding how we receive— and perceive— information."
— New York Post
Portfolio, 9781591846284, 352pp.
Publication Date: July 2, 2013
About the Author
Ryan Holiday is one of the world's bestselling living philosophers. His books like The Obstacle Is the Way, Ego Is the Enemy, The Daily Stoic, and the #1 New York Times bestseller Stillness Is the Key appear in more than 40 languages and have sold more than 5 million copies. Together, they've spent over 300 weeks on the bestseller lists. He lives outside Austin with his wife and two boys...and a small herd of cows and donkeys and goats. His bookstore, The Painted Porch, sits on historic Main St in Bastrop, Texas.