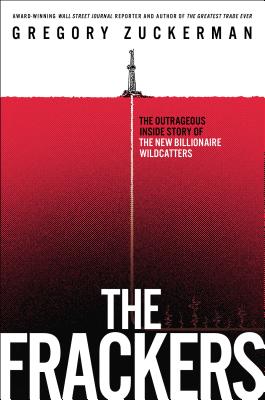 The Frackers (Hardcover)
The Outrageous Inside Story of the New Billionaire Wildcatters
Portfolio, 9781591846451, 404pp.
Publication Date: November 5, 2013
Description
Everyone knew it was crazy to try to extract oil and natural gas buried in shale rock deep below the ground. Everyone, that is, except a few reckless wildcatters - who risked their careers to prove the world wrong.
Things looked grim for American energy in 2006. Oilproduction was in steep decline and natural gas washard to find. The Iraq War threatened the nation salready tenuous relations with the Middle East.China was rapidly industrializing and competing forresources. Major oil companies had just about givenup on new discoveries on U.S. soil, and a new energycrisis seemed likely.

But a handful of men believed everything wasabout to change.
Far from the limelight, Aubrey McClendon, Harold Hamm, Mark Papa, and other wildcatterswere determined to tap massive deposits of oil andgas that Exxon, Chevron, and other giants had dismissedas a waste of time. By experimenting withhydraulic fracturing through extremely dense shale a process now known as fracking the wildcattersstarted a revolution. In just a few years, they solvedAmerica's dependence on imported energy, triggereda global environmental controversy and made andlost astonishing fortunes.

No one understands these men their ambitions, personalities, methods, and foibles betterthan the award-winning Wall Street Journal reporterGregory Zuckerman. His exclusive access enabledhim to get close to the frackers and chronicle theuntold story of how they transformed the nation andthe world. The result is a dramatic narrative trackinga brutal competition among headstrong drillers.It stretches from the barren fields of North Dakotaand the rolling hills of northeastern Pennsylvaniato cluttered pickup trucks in Texas and tense WallStreet boardrooms.
Activists argue that the same methods that arecreating so much new energy are also harming ourwater supply and threatening environmental chaos.The Frackers tells the story of the angry oppositionunleashed by this revolution and explores just howdangerous fracking really is.

The frackers have already transformed the economic, environmental, and geopolitical course ofhistory. Now, like the Rockefellers and the Gettysbefore them, they re using their wealth and power toinfluence politics, education, entertainment, sports, and many other fields. Their story is one of the mostimportant of our time.
MEET THE FRACKERS

GEORGE MITCHELL, the son of a Greek goatherd, who tried to tap rock that experts deemedworthless but faced an unexpected obstacle in his quest to change history.
AUBREY McCLENDON, the charismatic scion of an Oklahoma energy family, who scored billionsleading a historic land grab. He wasn t prepared for the shocking fallout of his discoveries.

TOM WARD, who overcame a troubled childhood to become one of the nation's wealthiestmen. He could handle natural-gas fields but had more trouble with a Wall Street power broker.

HAROLD HAMM, the son of poor sharecroppers, who believed America had more oil thananyone imagined. Hamm was determined to find the crude before others caught on.

CHARIF SOUKI, the dashing Lebanese immigrant who saw his career crumble and his fortunedisintegrate, leaving one last, unlikely chance for success.

MARK PAPA, the Enron castoff who panicked when he realized a resurgence of Americannatural gas was at hand, one that his company wasn t prepared for.
About the Author
Gregory Zuckermanis a special writer at TheWall Street Journal andthe bestselling author ofThe Greatest Trade Ever.He is a two-time winnerof the Gerald LoebAward and a winner ofthe New York Press ClubJournalism Award. Helives in New Jersey withhis wife and two sons."
Praise For The Frackers: The Outrageous Inside Story of the New Billionaire Wildcatters…
Praise for The Frackers

"Zuckerman's fast-paced, densely interesting The Frackers is the first book to tell the stories of the obstinate, ravenous, methodical, sometimes rascally oil executives of the recent boom. By focusing on people instead of trends, it gets to the heart of why the United States is once again the largest supplier of oil and gas in the world."
—The New Republic
 
"The Frackers, [Zuckerman's] second book, is told with care and precision and a deep understanding of finance and corporate politics as well as oil and geology."
— Bryan Burrough, The New York Times
 
"Fans of the lively, character-driven nonfiction of writers like Kurt Eichenwald and Ben Mezrich should welcome this book with open arms . . . A lively, exciting, and definitely thought-provoking book"
—Booklist

"A fascinating study of American entrepreneurial culture and the modern robber barons who succeeded in creating an energy revolution."
—Kirkus

"Lovers of business and capitalism will appreciate The Frackers, … Zuckerman has done valuable and timely reporting on the men and independent companies that created the shale boom."
—Associated Press
 
"Colorful …compelling account [of]  a revolution driven by stubborn entrepreneurs."
—Reuters
 
"An interesting and first-rate narrative… a dramatic tale… The book may be the definitive story of the innovative men behind the most significant energy discovery of our time."
—Akron Beacon Journal

"Insightful...At times suspenseful...on-target in telling the tale of a group of wildcatters who risked almost everything and helped launch the United States on the path to energy independence."
— Natural Gas Intelligence

"Too little attention has been paid to one of America's biggest economic and scientific revolution of recent decades: the tapping of abundant oil and natural gas reserves within our own borders using a technique called fracking. Wall Street Journal reporter Zuckerman…sets out to change that with his unique talent of translating complex aspects of finances and geology into prose that reads like a blockbuster thriller."
 —Publishers Weekly (starred)
 
"Zuckerman details [the frackers's] epic adventure with skill that makes it required reading for anyone looking to understand fundamental forces at work in our world today."
 —Forbes "Best Books of 2013"

"A dynamic narrative... introduces us to the major players behind a boom."
—San Antonio Express-News

"Greg Zuckerman tells the remarkable story of the larger than life entrepreneurs and deal makers behind this energy-industrial revolution. A great read, whether you are pro-fracking or against it."
—Matthew Bishop, US Business Editor at The Economist
 
"If you are looking for the present-day take on a romantic rag-to-riches drama reminiscent of the Gilded Age, engaging tales of brave entrepreneurs whose desire to get really wealthy helped them persevere and prosper come boom or bust, look no further than The Frackers."
–Pittsburgh Post Gazette

"Gregory Zuckerman tells the story of the shale revolution well. He has an eye for detail and a flair for narrative that makes it highly readable... This is a story of innovation as perspiration… It is a reminder that innovation is neither easy nor cheap nor inevitable"
—The Times (UK)
 
"Greg Zuckerman's The Frackers will long be considered 'The Bible' on fracking and the history of drilling in the US and the wildcatting billionaires who were the main players. This incredibly thorough book explains, thrills, and has us on the edge of our seats all the way towards US energy independence." 
—James Altucher, best-selling author, entrepreneur and blogger


Praise for The Greatest Trade Ever

" Simply terrific. Easily the best of the post-crash financial books."
—Malcolm Gladwell

" Mr. Zuckerman is a first-rate reporter who is also able to explain the complexities of real estate finance in layman's terms. At times, The Greatest Trade Ever reads like a thriller."
—The New York Times

" He's written the definitive account of a strange and wonderful subplot of the financial crisis."
—Michael Lewis

" Possibly the greatest book to come out of the financial crisis of 2007–08, and it's certainly up there in the top 3."
—Bnet.com
 
Advertisement