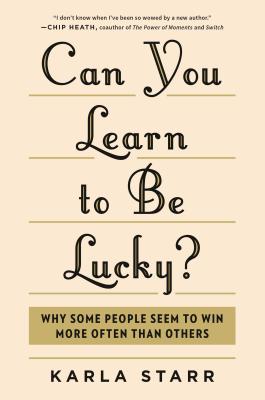 Can You Learn to Be Lucky? (Hardcover)
Why Some People Seem to Win More Often Than Others
Portfolio, 9781591846864, 288pp.
Publication Date: August 14, 2018
Other Editions of This Title:
Digital Audiobook (8/13/2018)
* Individual store prices may vary.
Description
"I don't know when I've been so wowed by a new author"
–Chip Health, co-author of The Power of Moments and Switch

A talented journalist reveals the hidden patterns behind what we call "luck" -- and shows us how we can all improve outcomes despite life's inevitable randomness.

"Do you believe in luck?" is a polarizing question, one you might ask on a first date. Some of us believe that we make our own luck. Others see inequality everywhere and think that everyone's fate is at the whim of the cosmos. Karla Starr has a third answer: unlucky, "random" outcomes have predictable effects on our behavior that often make us act in self-defeating ways without even realizing it.

In this groundbreaking book, Starr traces wealth, health, and happiness back to subconscious neurological processes, blind cultural assumptions, and tiny details you're in the habit of overlooking. Each chapter reveals how we can cultivate personal strengths to overcome life's unlucky patterns. For instance:

• Everyone has free access to that magic productivity app—motivation. The problem? It isn't evenly distributed. What lucky accidents of history explain patterns behind why certain groups of people are more motivated in some situations than others?

• If you look like an underperforming employee, your resume can't override the gut-level assumptions that a potential boss will make from your LinkedIn photo. How can we make sure that someone's first impression is favorable?

• Just as people use irrelevant traits to make assumptions about your intelligence, kindness, and trustworthiness, we also make inaccurate snap judgments. How do these judgments affect our interactions, and what should we assume about others to maximize our odds of having lucky encounters?

We don't always realize when the world's invisible biases work to our advantage or recognize how much of a role we play in our own lack of luck. By ending the guessing game about how luck works, Starr allows you to improve your fortunes while expending minimal effort.
About the Author
Karla Starr has written for O, The Atlantic, Slate, Popular Science, the Guardian, and the Los Angeles Times, and appeared on CBS Sunday Morning as an expert on luck. The recipient of a Best Science/Health award from the Society of Professional Journalists, she lives in New York and spends an inordinate amount of time lifting heavy things. This is her first book.
Praise For Can You Learn to Be Lucky?: Why Some People Seem to Win More Often Than Others…
"Karla Starr's Can You Learn to be Lucky is a rollicking journey through the land of luck—an entertaining and insightful tour of stories and science that explores the origins of luck, why some people are luckier than others, and how we can all raise our chances of become luckier by design. A wonderful book that manages to be fun, smart, and important all at once."
—Adam Alter, Associate Professor of Marketing and Psychology at NYU's Stern School of Business

"Luck seems elusive, a force well out of our control. But in this fun and persuasive book, Karla Starr explains how the choices we make that shape our fate — and offers smart, science-based advice for making luck break our way."
 —Daniel H. Pink, author of When and Drive
 
"A clever, captivating read on how seemingly random events sometimes have predictable patterns behind them. If you believe chance favors the prepared mind, this is the book to prepare your mind."
—Adam Grant, author of Give and Take, Originals, and Option B with Sheryl Sandberg

"Karla's charming wisdom offers lessons for improving nearly every aspect of life. If you can't find a leprechaun, buy this book!"
—Chris Guillebeau, author of Side Hustle

"Getting lucky is not about luck. It's about being prepared and having the right attitude. Based on years of research and decades of hard-won experience, Karla Starr reveals how to navigate social judgment, find your own hidden talents, and "kick ass" at life—all with wisdom and humor."
—Matthew Hutson, author of The 7 Laws of Magical Thinking

"This book is a triple threat: laden with research, immediately practical, and laugh-out-loud funny. You will feel deliciously frustrated by the hidden injustices of luck lurking in our midst, then revved up to use the simple, life-changing "luck hacks" in every chapter. I gotta say, I feel luckier already."
—Tania Luna, co-author of Surprise and Engineer the Unexpected & partner at LifeLabs Learning

"I don't know when I've been so wowed by a new author.  Karla Starr explains how "lucky" can be learned using credible social science and captivating stories, leavened with keen humor that had me laughing on a plane (apologies to the guy in 6A!)." 
 
​—Chip Heath, co-author of The Power of Moments and Switch

"It's a time-honored truth that we make ourselves miserable trying to change things we can't. But as Karla Starr shows, many of the things we don't bother trying to control – because we assume they're a matter of luck – are actually subject to strategy. Luckily for you, this insightful and frequently hilarious book is the perfect guide to understanding how."
—Oliver Burkeman, author of The Antidote