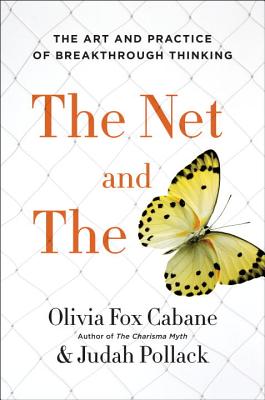 The Net and the Butterfly (Hardcover)
The Art and Practice of Breakthrough Thinking
Portfolio, 9781591847199, 288pp.
Publication Date: February 7, 2017
Other Editions of This Title:
Digital Audiobook (2/6/2017)
* Individual store prices may vary.
Description
In The Charisma Myth, Olivia Fox Cabane offered a groundbreaking approach to becoming more charismatic. Now she teams up with Judah Pollack to reveal how anyone can train their brain to have more eureka insights.

The creative mode in your brain is like a butterfly. It's beautiful and erratic, hard to catch and highly valued as a result. If you want to capture it, you need a net. Enter the executive mode, the task-oriented network in your brain that help you tie your shoes, run a meeting, or pitch a client. To succeed, you need both modes to work together--your inner butterfly to be active and free, but your inner net to be ready to spring at the right time and create that "aha!" moment. But is there any way to trigger these insights, beyond dumb luck?

Thanks to recent neuroscience discoveries, we can now explain these breakthrough moments--and also induce them through a series of specific practices. It turns out there's a hidden pattern to all these seemingly random breakthrough ideas. From Achimedes' iconic moment in the bathtub to designer Adam Cheyer's idea for Siri, accidental breakthroughs throughout history share a common origin story. In this book, you will learn to master the skills that will transform your brain into a consistent generator of insights.

Drawing on their extensive coaching and training practice with top Silicon Valley firms, Cabane and Pollack provide a step-by-step process for accessing the part of the brain that produces breakthroughs and systematically removing internal blocks. Their tactics range from simple to zany, such as:

· Imagine an alternate universe where gravity doesn't exist, and the social and legal rules that govern it.
· Map Disney's Pocahontas story onto James Cameron's Avatar.
· Rid yourself of imposter syndrome through mental exercises.
· Literally change your perspective by climbing a tree.
· Stimulate your butterfly mode by watching a foreign film without subtitles.

By trying the exercises in this book, readers will emerge with a powerful new capacity for breakthrough thinking.
About the Author
Olivia Fox Cabane is the former Director of Innovative Leadership for Stanford StartX and the bestselling author of The Charisma Myth. In addition to being a keynote speaker and executive coach to the leadership of Fortune 500 companies such as Google, MGM, and Deloitte, she lectures at Harvard, Yale, MIT, and the United Nations.
 
Judah Pollack is a former faculty member of Stanford StartX and current lecturer at the University of California, Berkeley's Haas School of Business. As a speaker and strategic advisor in the art of leadership, he works regularly with the US Army Special Forces and Red Team University, as well civilian clients such as the Plexus Institute, Airbnb, IDEO.org, and The North Face.
Praise For The Net and the Butterfly: The Art and Practice of Breakthrough Thinking…
"This book teaches you how to coax breathtaking breakthroughs and 'Eureka!' epiphanies from the recesses of your mind."
-Adam Cheyer, inventor of Apple's intelligent personal assistant and knowledge navigator Siri

"For anyone whose success depends on producing genuine breakthroughs, this book is a gold mine."
-Alex Pentland, MIT professor, director of the MIT Human Dynamics Lab and the MIT Media Lab Entrepreneurship Program

"A science-backed, fast-acting antidote to the dreaded creative block. Read it and you'll accomplish great things."
-Joe Gebbia, confounder of Airbnb

"Highly recommended! If you want to generate big ideas, read this book. It is a game change."
-Daniel L. Shapiro, founding director of the Harvard International Negotiation Program and author of Negotiating the Nonnegotiable

"Brilliantly challenging! Cabane and Pollack counter the familiar excuse that true innovation is only for the gifted genius or quirky cousin by linking how the mind functions with some eminently practical things any of us can do to stimulate innovation. Thoughtful, erudite, and, for many of us, the nudge we need."
-General Stanley McChrystal, US Army, retired; former commander of the International Security Assistant Force; and author of Team of Teams