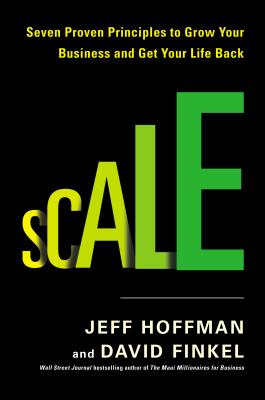 Scale
Seven Proven Principles to Grow Your Business and Get Your Life Back
Hardcover

* Individual store prices may vary.
Description
Your concrete road map to rapidly grow your business and get your life back!

Have you ever wanted to grow your business but held back because of fear that it would take over your life? As an owner, it's all too common to feel you have to choose between your personal life and the success of your business. But the surprising truth is that the only way to truly scale and grow your company is to reduce its reliance on you. This means that, done right, scaling ensures that you can grow your business without sacrificing your life.

Jeff Hoffman, a serial entrepreneur and former CEO in the Priceline (Priceline Yardsale) family of companies, and David Finkel, CEO of Maui Mastermind, a business coaching company with thousands of clients worldwide, offer a concrete road map for rapidly growing your business while also gaining more personal freedom.

You'll not only learn the best strategies to generate growth, but you'll also get proven insider tips to sustain that growth through sound systems, empowered teams, and intelligent internal controls. Hoffman and Finkel will also show you how to overcome predictable obstacles in any pillar of your business—including sales, operations, and finance—with insight for building better lead-generation systems, managing cash flow, and retaining talent. You'll learn how to:

• Escape the Self-Employment Trap and build a business, not a job.
• Systematize your business to reduce costs and increase capacity.
• Ensure your company survives the "Hit by a Bus" test.
• Uncover your company's top leverage points (and execution strategies to implement what you discover).
• Fund your growth with the seven cash flow commandments.
• And much more.

Scale offers a game plan to work less and get your business to produce more. Written by two worldclass entrepreneurs who have started, scaled, and successfully exited from multiple businesses, which collectively have generated tens of billions of dollars in sales, it gives you their bottom-line best ideas to effectively grow your company.

If you have ever felt stuck in your business, not knowing the best way forward, this book is your mustread guide.
Praise For Scale: Seven Proven Principles to Grow Your Business and Get Your Life Back…
"Almost every chapter provides the kind of pragmatic support new business owners need—and deserve."
— Booklist

"This well-written, well-organized book will help business owners who want to enjoy a life beyond business."
— Publisher's Weekly

"Scale is a competitive weapon! This book gives you exactly what you need to succeed in the big game."
— Philip and Gayle Tauber, founders, Kashi Company

"Scale is a masterwork that encapsulates enough practical wisdom to fill several books. . . . This book will ignite years of successful growth for any reader who applies what they share."
—Rob Kautz, former CEO, Wolfgang Puck Worldwide

"Hoffman and Finkel have hit a grand slam with Scale. Each of the chapters is worth its weight in gold and jam-packed with immediately actionable guidance."
—Jason Jennings, New York Times bestselling author, Think BIG, Act Small and The Reinventors

"Wow! Scale gives you a step-by-step process to grow your business the right way. I would tell every business owner that they need to read this book."
—Sandy Gooch, cofounder, Mrs. Gooch's Natural Food Market (later acquired by Whole Foods)

"Scale is a must-read for anyone interested in founding and scaling firms."
—Jonathan Ortmans, president, Global Entrepreneurship Week, and senior fellow, Kauffman Foundation

"If you're tired of struggling and spending every waking moment consumed by your business, then this is the book for you. Learn how to build a successful and sustainable business that has value without your being involved every minute."
—Susan Solovic, New York Times bestselling author of It's Your Biz and award-winning entrepreneur
Portfolio, 9781591847243, 288pp.
Publication Date: August 14, 2014
About the Author
JEFF HOFFMAN, a founding team member and former CEO in the Priceline.com (Priceline Yardsale) family of companies, is a serial entrepreneur who has successfully scaled and sold multiple companies. Collectively, his businesses have generated sales in the billions of dollars. He lives in Chicago.

DAVID FINKEL is the CEO of Maui Mastermind®, one of the world's premier business coaching companies with thousands of clients worldwide. He is the Wall Street Journal bestselling author of ten books, including Build a Business, Not a Job. He lives in Jackson Hole, Wyoming.