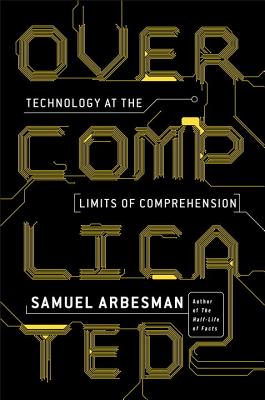 Overcomplicated
Technology at the Limits of Comprehension
Hardcover

* Individual store prices may vary.
Other Editions of This Title:
Digital Audiobook (7/31/2016)
Paperback (6/20/2017)
Description
   Why did the New York Stock Exchange suspend trading without warning on July 8, 2015? Why did certain Toyota vehicles accelerate uncontrollably against the will of their drivers? Why does the programming inside our airplanes occasionally surprise its creators? 
   After a thorough analysis by the top experts, the answers still elude us. 
   You don't understand the software running your car or your iPhone. But here's a secret: neither do the geniuses at Apple or the Ph.D.'s at Toyota—not perfectly, anyway. No one, not lawyers, doctors, accountants, or policy makers, fully grasps the rules governing your tax return, your retirement account, or your hospital's medical machinery. The same technological advances that have simplified our lives have made the systems governing our lives incomprehensible, unpredictable, and overcomplicated. 
   In Overcomplicated, complexity scientist Samuel Arbesman offers a fresh, insightful field guide to living with complex technologies that defy human comprehension. As technology grows more complex, Arbesman argues, its behavior mimics the vagaries of the natural world more than it conforms to a mathematical model. If we are to survive and thrive in this new age, we must abandon our need for governing principles and rules and accept the chaos. By embracing and observing the freak accidents and flukes that disrupt our lives, we can gain valuable clues about how our algorithms really work. What's more, we will become better thinkers, scientists, and innovators as a result. 
   Lucid and energizing, this book is a vital new analysis of the world heralded as "modern" for anyone who wants to live wisely.


Praise For Overcomplicated: Technology at the Limits of Comprehension…
Praise for Overcomplicated:

"[Arbesman] argues convincingly...He is undoubtedly right. The dream that we can fully understand our complex man-made systems is just that—a dream."
—The Wall Street Journal

"Acquiring fluency in systems-speak is fast becoming a civic duty... Arbesman's freshly elucidated concepts are excellent field tools: they are the translucent sampling containers you take with you as you wade through the glitch-infested shallows of an algorithm."
—New Scientist

"I was shocked [by] this elegant, eye-opening book…Fascinating and full of new ideas I will use in argument from now on." 
—Financial Times

"Overcomplicated has the scintillating, big-idea premise of an 'it' business book, but it's more than a Hudson News read: It presents a new way to think about the world that makes seemingly impossible problems approachable. By identifying how tangled our world has gotten, we can figure out the best ways to undo the knots."
—Vox

"How do we navigate a digital world too complex for any individual to understand? With a sense of wonder and the spirit of a scientist, as Samuel Arbesman argues in this terrific and thoughtful book."
—CLIVE THOMPSON, author of Smarter Than You Think

"With humor, insight, and wide-ranging examples, polymath Samuel Arbesman helps us hack through the tangle of complexity that defines our world today, and shows us how to cope with it."
—STEVEN STROGATZ, professor of mathematics, Cornell University; author of The Joy of x

"Why can't we understand technology anymore? In this consistently entertaining and insightful book, Arbesman offers a necessary guide to where we are headed and why everything seems so strange along the way."
 —TYLER COWEN, author of Average Is Over

"Complexity science has unlocked new insights in physics, seismology, biology, even finance. In Overcomplicated, Samuel Arbesman makes an original and invaluable contribution to the field by exploring human interaction with complex systems. This excellent book is necessary reading for the layman and the expert alike."
—JAMES RICKARDS, author of The Death of Money

"Read this short book to get over the idea that we can make technology simple. Arbesman will convince you we have only one choice: to indirectly manage ever increasing complexity."
—KEVIN KELLY, author of The Inevitable

"A powerful, concise argument about how to grapple with the mystery and wonder of twenty-first-century technology. It's exactly what we all need."
—CARL ZIMMER, author of Evolution

"Fascinating, alarming, insightful, full of examples and funny."
—QI.com
Current, 9781591847762, 256pp.
Publication Date: July 19, 2016
About the Author
Samuel Arbesman is Scientist in Residence at Lux Capital, a science and technology venture capital firm. He is also a Senior Fellow of the Silicon Flatirons Center of Law, Technology, and Entrepreneurship at the University of Colorado and a Research Fellow at the Long Now Foundation. His writing on science, mathematics, and technology has appeared in The New York Times, The Wall Street Journal, and Wired. Arbesman's first book, The Half-life of Facts, examines how knowledge changes over time. He lives in Kansas City with his wife and children.
or
Not Currently Available for Direct Purchase