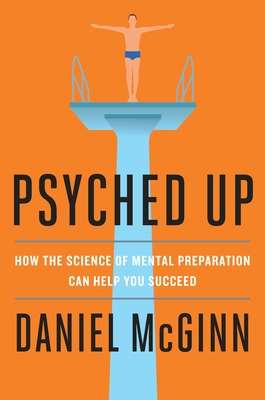 Psyched Up
How the Science of Mental Preparation Can Help You Succeed
Hardcover

* Individual store prices may vary.
Description
Closing the sale. Asking for a raise. Nailing the big presentation. Of the 2,000 hours you work every year, your success or failure is determined in the couple of dozen crucial hours when you need to bring your absolute best. Will you?

The last few minutes before a major challenge can be terrifying. Ever wished you knew how to make sure you ace the make-or-break test, audition, or interview?

We often feel the most powerless just before we're expected to act powerful. As you'll learn in this life-changing book, practice might make perfect, but perfection is useless if you can't summon it when it counts. Pulling off a great speech or the pivotal at bat also requires the right kind of mental preparation.

In Psyched Up, journalist Daniel McGinn dives into the latest psychological research and interviews athletes, soldiers, entertainers, and others who, despite years of practice and enviable track records, will ultimately be judged on their ability to delivera solid performance when it's their turn to shine. For instance, he reveals...

• How Jerry Seinfeld's jacket and Stephen Colbert's pen help them get laughs.

• What General Stanley McChrystal said to Special Forces before they entered the battlefield.

• Why the New England Patriots hired the DJ from the Red Sox to help them win.

Among other counterintuitive insights, McGinn reveals why trying to calm your backstage jitters can be worse for your performance than channeling it into excitement; how meaningless rituals can do more to prepare you in the final moments than last-minute rehearsal; and how a prescription from your doctor could help you unleash your best skills.

Whether you're a sportsperson or a salesperson, an actor or an entrepreneur, one bad hour can throw away months of hard work. There's so much conflicting popular advice that we often end up doing the wrong things. McGinn separates the facts from the old wives' tales and shares new, research driven strategies for activating your talent, optimizing your emotions, and getting psyched up to take the spotlight.
Praise For Psyched Up: How the Science of Mental Preparation Can Help You Succeed…
"Performance anxiety can scuttle great opportunities to showcase your talent and work. Psyched Up is an essential user's guide for ensuring you'll be your best when you take center stage—whether the cameras are rolling or not!"
—KATIE COURIC

"Daniel McGinn takes readers into locker rooms, backstage on Broadway, onto the sales floor at Yelp, and inside the DJ booth at Fenway Park to discover the secrets of how high performers use psychology, superstition, and a surprising mix of other tools to get ready for the make-or-break events in their lives. It's a fascinating read."
—CHARLES DUHIGG, author of The Power of Habit and Smarter Faster Better

"Psyched Up is filled with actionable, practical tips and tools to help reduce anxiety, lower stress, and build confidence. McGinn's strategies can create a winning pregame routine for anyone."
—ARIANNA HUFFINGTON

"This book is a gift for entreprenuers or anyone else who pitches ideas for a living."
—BRAD FELD, venture capitalist and cofounder of Techstars

"Psyched Up provides a wonderful overview of the science and practicalities of how to perform well when it matters most. The book is full of useful takeaways for all of us, including—my favorite—how powerful it can be to have lucky exam shoes."
—GRETCHEN REYNOLDS, New York Times fitness columnist and author of The First 20 Minutes

"A wonderful pleasure to read, Psyched Up is an expertly crafted investigation into thevibrating heart of peak performance."
—PO BRONSON, author of Top Dog and NurtureShock

"I can't think of another book that's as helpful as this, whether you're shooting a free throw, taking a big test, giving a toast, or on one knee proposing. Read Psyched Up before your next big moment."
—MATT MULLENWEG, creator of WordPress and CEO of Automattic

"Psyched Up offers compelling, entertaining, and well-researched advice on how to prepare for stressful situations."
—TONY HSIEH, CEO of Zappos.com and author of Delivering Happiness

"Daniel McGinn's Psyched Up offers that perfect combination of informative, applicable advice and page-turningly good entertainment."
—KEITH FERRAZZI, author of Who's Got Your Back and Never Eat Alone
Portfolio, 9781591848301, 272pp.
Publication Date: June 6, 2017
About the Author
DANIEL MCGINN is an editor at Harvard Business Review. His writing has appeared in Wired, Inc., the Boston Globe Magazine, and Newsweek. He lives in suburban Boston with his family.
or
Not Currently Available for Direct Purchase