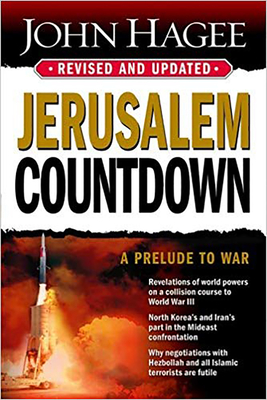 Jerusalem Countdown: Let the World Be Warned! the Secret Threat Has Been Revealed. (Paperback)
Let the World Be Warned! the Secret Threat Has Been Revealed.
Frontline, 9781591858935, 225pp.
Publication Date: December 1, 2005
* Individual store prices may vary.
or
Not Currently Available for Direct Purchase
Description
"WE ARE ON A COUNTDOWN TO CRISIS. The coming nuclear showdown with Iran is a certainty. The battle for Jersalem has already begun. That war will affect every nation on Earth, including America, and will affect every person on Planet Earth."
- John Hagee
The nuclear storm clouds are gathering over Iran and Israel and casting a long shadow on America and several other countries
SHOCKING INFORMATION OF THE IMPENDING WAR:
What is the Pentagon's contingency plan for the use of nuclear weapons against at least seven countries?
Where will the United States use the bunker-busting mini-nukes, and how will they reduce the collateral damage?
To what extent are Russians, French, and Germans helping Iran achieve its dream of a nuclear holocaust?
How will an attack on Jerusalem affect America?
Jerusalem Countdown by best-selling author John Hagee anticipates Israel's strategies toward any Iranian threat and the resulting effect upon America. Can anyone actually believe that the Islamic fanatics presently in charge of the Iranian government would not use these weapons on America?
Hagee skillfully unveils the reasons Islam and Israel cannot dwell peaceably together as he paints a convincing picture explaining why Christians must support the Holy Land.
"Those nations who align with God's purposes will receive His blessing. Those who follow a policy of opposition to God's purposes will receive the swift and severe judgment of God without limitation."
-John Hagee
About the Author
John Hagee is the senior pastor of Cornerstone Church, a place of worship and teaching he founded in San Antonio, Texas. The nondenominational evangelical church now has more than 18,000 active members. Known best nationally for his End-Time writings, he has authored several fiction and nonfiction best sellers, including What Every Man Wants in a Woman/What Every Woman Wants in a Man and The Seven Secrets.
Advertisement