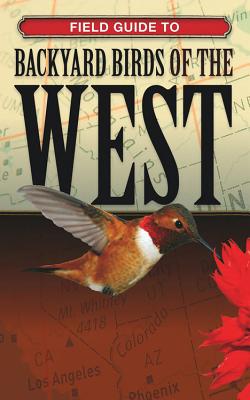 Field Guide to Backyard Birds of the West (Backyard Birding) (Paperback)
Cool Springs Press, 9781591860099, 90pp.
Publication Date: September 1, 2008
Other Editions of This Title:
Paperback (9/1/2008)
Paperback (9/1/2008)
Paperback (9/1/2008)
Paperback (9/1/2008)
* Individual store prices may vary.
Description
From the expert editors at Cool Springs Press, a series of regional bird books that love the outdoors as much as you do.
"Patience is a virtue," said no backyard bird ever. That's why, when these busy creatures come flitting into view, you need to have your resources ready at a moment's notice. Have you spent all this time mistaking the Mountain Chickadee for its Black-Capped cousin? A forgivable error, but with the Field Guide to Backyard Birds of the West, you'll be pointing out those distinctive white eyebrows in no time. Each book in this series has been conveniently packaged in a field-sized 5"x8" format: large enough to showcase the gorgeous close-up photography within, but small enough to keep dependably at the ready. In this edition, each of the West's 80 most popular bird species gets its own page, complete with a concise description, preferred habitat, feeding and migration habits, and tips for attracting them to your bird feeders. Illustrated with colorful range maps, vibrant images, and a brilliant tabbed layout that helps you quickly search for birds by color, this portable field book will never again let that elusive Anna's Hummingbird buzz stealthily out of range.
Western states include Washington, Oregon, California, Arizona, New Mexico, Nevada, Utah, Colorado, Idaho, Wyoming, Montana, North Dakota, South Dakota, Oklahoma, and Texas.
Look for our other four Field Guide to Backyard Birds titles, covering the Midwest, Mid-Atlantic, South, and Northeast regions of the United States.
About the Author
The Editors of Cool Springs Press have produced the highest quality DIY home improvement books for more than 30 years. In conjunction with the experts at BLACK+DECKER™ they have combined resources to create more than 200 home improvement titles that provide consumers and weekend DIYers with the information they need to get the job done right. Their books have set the standard for do-it-yourself publishing, featuring clear, professional photography and concise step-by-step instructions that get straight to the point. View our full catalog at quartoknows.com or connect with us on Facebook (facebook.com/QuartoHomes), Twitter (@quartohomes), or Pinterest (pinterest.com/QuartoHomes).
or
Not Currently Available for Direct Purchase