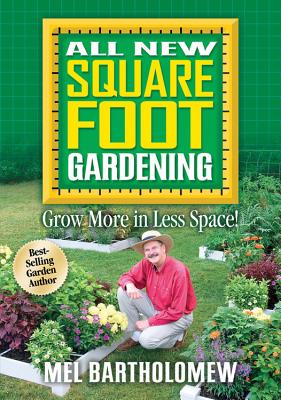 All New Square Foot Gardening (Paperback)
Cool Springs Press, 9781591862024, 272pp.
Publication Date: February 14, 2006
Other Editions of This Title:
Paperback (4/1/2010)
* Individual store prices may vary.
Description
Do you know what the best feature is in All New Square Foot Gardening?
Sure, there are ten new features in this all-new, updated book. Sure, it's even simpler than it was before. Of course, you don't have to worry about fertilizer or poor soil ever again because you'll be growing above the ground.
But, the best feature is that "anyone," "anywhere" can enjoy a Square Foot garden. Children, adults with limited mobility, even complete novices can achieve spectacular results.
But, let's get back to the ten improvements. You're going to love them.
1) New Location - Move your garden closer to your house by eliminating single-row gardening. Square Foot Garden needs just "twenty percent" of the space of a traditional garden.
2) New Direction - Locate your garden "on top" of existing soil. Forget about pH soil tests, double-digging (who enjoys that?), or the never-ending soil improvements.
3) New Soil - The new "Mel's Mix" is the perfect growing mix. Why, we even give you the recipe. Best of all, you can even "buy" the different types of compost needed.
4) New Depth - You only need to prepare a SFG box to a depth of 6 inches! It's true--the majority of plants develop just fine when grown at this depth.
5) No Fertilizer - The all new SFG does not need any fertilizer-ever! If you start with the perfect soil mix, then you don't need to add fertilizer.
6) New Boxes - The new method uses bottomless boxes placed aboveground. We show you how to build your own (with step-by-step photos).
7) New Aisles - The ideal gardening aisle width is about three to four feet. That makes it even easier to kneel, work, and harvest.
8)New Grids - Prominent and permanent grids added to your SFG box help you visualize the planting squares and know how to space for maximum harvest.
9)New Seed Saving Idea - The old-fashioned way advocates planting many seeds and then thinning the extras (that means pulling them up). The new method means planting a pinch- literally two or three seeds--per planting hole.
10) Tabletop Gardens - The new boxes are so much smaller and lighter (only 6 inches of soil, remember?), you can add a plywood bottom to make them portable.
Of course, that's not all. We've also included simple, easy-to-follow instructions using lots of photos and illustrations. You're going to love it!
About the Author
Mel Bartholomew was the founder and inventor of Square Foot Gardening and the author of All New Square Foot Gardening, the best-selling gardening book in America for a generation. The book has sold 2.5 million copies since Bartholomew wrote the first book in 1981. He hosted a PBS TV show for five years, and then was telecast for three more years on the Learning Channel and Discovery Network. Bartholomew presided over the nonprofit Square Foot Gardening Foundation, which encourages every household around the world to have a small garden and eat fresh, healthy vegetables that are uncontaminated. He passed away in May, 2016.
www.squarefootgardening.com
Praise For All New Square Foot Gardening…
"Bartholomew, author of the popular Square Foot Gardening (1981), has refined his original square-foot gardening concept by adding ten improvements, including a new location for the garden that is closer to the house, a special soil mix, and six-inch deep, 4' x 4' above-ground boxes with grids. His techniques do not require heavy digging or fertilizers and feature advice on using vertical gardening to save space. He clearly explains the square-foot concept, from the rationale behind it (the square-foot garden takes up much less space than traditional row gardening and saves time, money, and aggravation) to how to plan the garden, build the boxes and vertical supports, and employ his planting and cultural techniques. There are also helpful charts for succession planting and spacing plants and a schedule for starting seeds indoors. Despite its somewhat annoying tendency to read like an infomercial, this attractive, easy-to-understand, and well-organized book for both novice and experienced gardeners is recommended for all libraries." — Library Journal
or
Not Currently Available for Direct Purchase