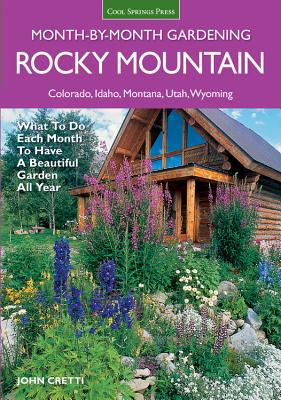 Rocky Mountain Month-by-Month Gardening (Paperback)
What to Do Each Month to Have A Beautiful Garden All Year - Colorado, Idaho, Montana, Utah, Wyoming (Month By Month Gardening)
Cool Springs Press, 9781591864349, 240pp.
Publication Date: July 1, 2015
* Individual store prices may vary.
Description
The when-to and how-to schedule for growing, caring for, and maintaining your Rocky Mountain garden!
Never garden alone! The Month-by-Month Gardening series is the perfect companion to take the guesswork out of gardening. With this book, you'll know what to do each month to have gardening success all year, from January to December. It's full of the when-to and how-tos of gardening along with richly illustrated step-by-step instructions, so you can garden with confidence.
Reap the benefits of the gardening successes of author John Cretti, who has more than thirty-two years of gardening experience!
With a fresh look and updated information, Rocky Mountain Month-by-Month Gardening includes all the when-to and how-to information that has made these books so popular over the years, presented in a new, easier-to-use format with more full-color photography and the most current information available. Complete with specific advice on growing flowers (both annuals and perennials), bulbs, grasses, roses, groundcovers, shrubs, trees, and vines, this book is one no garden lover will want to miss! In the winter, certain tasks are needed to plan for and improve the next growing season. And once things really start growing in the spring and summer, you'll find advice on the best way to get the most beautiful flowers, the lushest lawns, and the sturdiest trees. From planting to watering and fertilizing, and from maintenance to problem solving, Rocky Mountain Month-by-Month Gardening shows all levels of gardeners the best practices to grow satisfying and rewarding results.
About the Author
A regionally known gardening expert, radio and television host, author, columnist, and former horticulture specialist for Colorado State University Extension, John Cretti has more than 32 years of horticulture experience. John hosted the Gardening with an Altitude radio program for thirty years and has been an expert on Rocky Mountain Gardening for area TV and HGTV.
His down-to-earth approach broadens the horizons of gardeners dealing with the unique and challenging climates of the region, where temperature fluctuations, wind, hail, unpredictable storms, difficult soils, and cunning critters are the norm.
John has spent his life growing all kinds of plants, beginning as a child under the tutelage of his Italian grandmother, aunts, and uncle. This inspired his interest and passion for gardening while growing up in western Colorado.
John is the author of several books for Cool Springs Press, including Rocky Mountain Gardener's Guide and Month-by-Month Gardening in the Rocky Mountains. Learn more about him at his website: www.gardeningwithanaltitude.com.
Praise For Rocky Mountain Month-by-Month Gardening: What to Do Each Month to Have A Beautiful Garden All Year - Colorado, Idaho, Montana, Utah, Wyoming (Month By Month Gardening)…
"... could take a landscape novice who has bitten off more than he or she could chew and give them the confidence to head into the yard with the loppers." - Denver Post