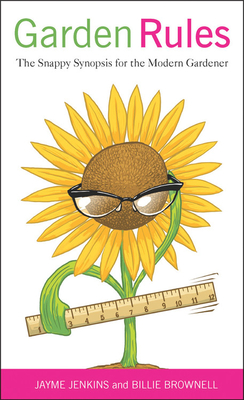 Garden Rules (Paperback)
The Snappy Synopsis for the Modern Gardener
Cool Springs Press, 9781591864912, 144pp.
Publication Date: February 10, 2011
* Individual store prices may vary.
Description
Garden Rules captures the essence of gardening by providing short, snappy, easy-to-remember tidbits of advice that will help homeowners and wannabe gardeners learn the shortcut rules to being successful. It is just enough of the right information to get started in gardening and enjoy the experience along the way.
 
About the Author
Jayme Jenkins
Billie Brownell spent many years in the corporate world of marketing, advertising, and publishing from Scripps-Howard to PC World magazine to the largest ad agency in the Southeast to Cool Springs Press. She now balances (or, tries to balance) being an editor, writer (as a co-author of Garden Rules, The Snappy Synopsis for the Modern Gardener), aspiring author of children's books, and gardener with her passion of riding horses. She knows how to cut to the chase in order to fit it all in, although this is partly due to arising at 5 a.m - or sooner! In addition to taking care of her horse Keillor (named for Garrison Keillor), Billie volunteers at a therapeutic riding facility and serves as the self-nominated social cruise director for all who will allow it. You can find Billie on Facebook and sometimes on Twitter. Or, you can just look in the phone book and call her.
or
Not Currently Available for Direct Purchase