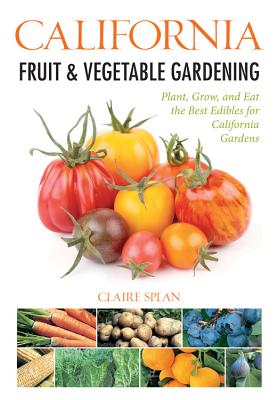 California Fruit & Vegetable Gardening (Paperback)
Plant, Grow, and Eat the Best Edibles for California Gardens (Fruit & Vegetable Gardening Guides)
Cool Springs Press, 9781591865285, 256pp.
Publication Date: April 23, 2012
* Individual store prices may vary.
Description
California abounds with edible selections to grow in the diverse conditions of the state. California Fruit & Vegetable Gardening addresses the critical elements of climate, soil, sun, and water that affects growing success. More than sixty fruits, vegetables, herbs, and edible flowers are highlighted, and helpful charts and graphs for planning and planting the garden are included.
About the Author
Claire Splan is a gardener and freelance writer in Alameda, California. After buying her first house in 2002, she began taking horticulture classes and remaking the gardens at her home, writing about her experiences there and her growing interest in gardening and environmental issues at her garden blog, An Alameda Garden (alamedagarden.blogspot.com). A member of the Garden Writers Association, Claire has been published in the San Francisco Chronicle, Rosebud, and Firsts magazine and reviews gardening books for the New York Journal of Books (www.nyjournalofbooks.com). She has degrees from the University of Southern California and the University of San Francisco and has studied landscape horticulture at Merritt College. Claire is the author of Cool Springs Press' California Fruit and Vegetable Gardening (2012) and California Month-by-Month Gardening (due to publish in 2014).Blog: http://alamedagarden.blogspot.comTwitter: http://twitter.com/AlamedaGardenerNY Journal of Books: http://nyjournalofbooks.com/reviewer/claire-splan