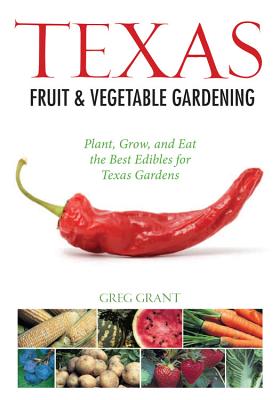 Texas Fruit & Vegetable Gardening (Paperback)
Plant, Grow, and Eat the Best Edibles for Texas Gardens (Fruit & Vegetable Gardening Guides)
Cool Springs Press, 9781591865315, 256pp.
Publication Date: April 17, 2012
* Individual store prices may vary.
Description
This book includes more than 60 fruits, vegetables and herbs suitable for the diverse growing conditions of Texas gardens. Texas Fruit & Vegetable Gardening addresses the climate, soil, sun, and water conditions that affect growing success. Each plant profile highlights planting, growing, watering, and care information. Helpful charts and graphs assist gardeners in knowing when to plant and harvest.
About the Author
Greg Grant is a horticulturist, conservationist, garden writer, and seventh generation Texan from Arcadia, Texas. He is co-author of the newly released Heirloom Gardening in the South-YesterdayÃ?s Plants for TodayÃ?s Gardens (2011, Texas A&M Press), In GregÃ?s Garden-A Pineywoods Perspective on Gardening, Nature, and Family (2010, Kindle e-book), Home Landscaping-Texas (2004) and The Southern Heirloom Garden (1995). He also writes the popular "In GregÃ?s Garden" column for Texas Gardener magazine, and contributes regularly to Neil SperryÃ?s Gardens magazine.