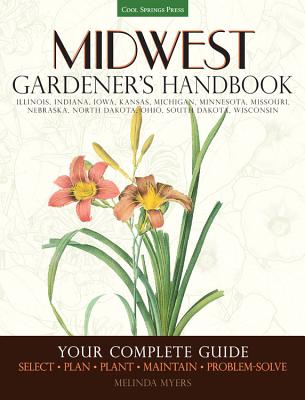 Midwest Gardener's Handbook (Paperback)
Your Complete Guide: Select - Plan - Plant - Maintain - Problem-solve - Illinois, Indiana, Iowa, Kansas, Michigan, Minnesota, Missouri, Nebraska, North Dakota, Ohio, South Dakota, Wisconsin
Cool Springs Press, 9781591865681, 256pp.
Publication Date: December 15, 2013
* Individual store prices may vary.
Description
With over 30 years of gardening experience, renowned regional horticulturalist Melinda Myers brings you the perfect when-to, how-to, and which-plant guide for gardening in the Midwestern United States.
Meant for the more experienced intermediate to advanced gardener, Midwest Gardener's Handbook is an all-inclusive resource guide featuring hundreds of proven plants—including winter-hardy choices—that are optimal for Midwestern gardeners. With the help of gorgeous photography and in-depth instructions, author Melinda Myers will teach you how to plant, prune, water, control pests, and continually care for your personal outdoor oasis. A helpful icon key highlights each featured plant's benefits, along with its particular sun and shade requirements. Featured plant categories discuss annuals, bulbs, edibles, ferns and groundcovers, ornamental grasses, perennials, roses, shrubs, trees, turfgrasses, and vines. Each plant is showcased with specific advice on how, when, and where to plant; growing tips, such as watering requirements; and descriptions of routine care. Alongside these "nitty-gritty" aspects of planting and growing, Myers shares her inspiration for garden design, the various ways you can beautifully incorporate plants into your landscape, and her favorite cultivars and species. Even better, she provides twelve full months of when-to advice for each plant category, allowing you to successfully enjoy this peaceful pastime all year round. With proven, practical instructions adapted specially for the Midwestern climate, Midwest Gardener's Handbook is your ticket to successful planting in America's Heartland.
About the Author
Nationally known gardening expert, TV and radio host, author, and columnist Melinda Myers has more than thirty years of horticulture experience. She has written over twenty gardening books, including Can't Miss Small Space Gardening, The Garden Book for Wisconsin, Minnesota Gardener's Guide, Month-by-Month Gardening in Wisconsin, the Perfect Lawn Midwest series, as well as the Midwest Gardener's Handbook and Michigan Getting Started Garden Guide.
In addition to authoring books, Myers hosts the nationally syndicated Melinda's Garden Moment segments that air on over 115 TV and radio stations throughout the United States. She is also the instructor for The Great Course How to Grow DVD series. She also has a column in Gardening How-to magazine and Wisconsin Gardening magazine. Melinda hosted The Plant Doctor radio program for over twenty years as well as seven seasons of Great Lakes Gardener on PBS. She has written articles for Better Homes and Gardens and Fine Gardening magazines and was a columnist and contributing editor for Backyard Living magazine. Melinda has a master's degree in horticulture, is a certified arborist, and was a horticulture instructor with tenure. Melinda Myers' many accomplishments include starting the Master Gardener program in Milwaukee County, two Garden Media Awards (a Garden Globe Award for radio talent and a Quill and Trowel Award for her television work), both from the Garden Writers Association, the American Horticultural Society's B.Y. Morrison Communication Award for effective and inspirational communication, and she was the first woman inducted into the Wisconsin Green Industry Federation Hall of Fame.
Visit with Melinda on her website, www.melindamyers.com.