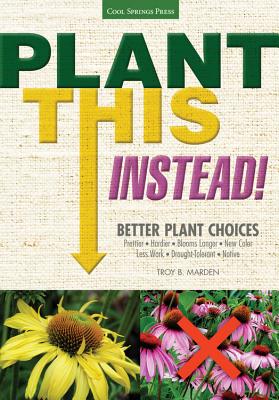 Plant This Instead! (Paperback)
Better Plant Choices - Prettier - Hardier - Blooms Longer - New Colors - Less Work - Drought-Tolerant - Native
Cool Springs Press, 9781591865766, 192pp.
Publication Date: February 1, 2014
* Individual store prices may vary.
Description
Beautiful gardens are generally thought to be true labors of love, often demanding hours of tedious routine maintenance. Planting requirements can be daunting, and finding the time to successfully cultivate a home garden is a tall order for most of us - constant watering, debris removal, and tiresome pruning are not at the top of our wish lists. Luckily, it doesn't have to be this way: a carefully selected plant variety can give you all the enjoyment and curb appeal of a gorgeous, painstakingly tended garden with none of the wrist pain. Plant This Instead! tips you off to 75 lesser-known plant types that will thrive naturally in various microclimates, depending on where you live in the United States--featuring native and non-invasive plants, hardy alternatives to less sturdy species, new introductions, repeat bloomers, and other helpful varieties. Renowned garden designer and photographer Troy B. Marden offers clear-cut, side-by-side comparisons of these superior plant choices to the more common, fussier kinds. He incorporates original photography and identifies regionally appropriate selections, demonstrating which climates are friendly to which plants and ensuring that no matter your location, you'll be able to capitalize on his expert advice. Most importantly, Marden alerts you to some of gardening's most harmful misconceptions, explaining why you shouldn't copy professional landscapers and how placing a ten-dollar plant in the wrong place could cost you thousands of dollars. Planting a beautiful garden shouldn't be a chore--and with Plant This Instead!, it won't be.
About the Author
Troy B. Marden has co-hosted Volunteer Gardener out of Nashville, TN, for over 10 years. Troy is a popular, lively and in-demand speaker for all kinds of gardening and social groups. He has more than 26 years of experience in the garden industry & garden writing world, as well as strong connections to the country music industry. Marden has written articles for magazines such as Horticulture, Fine Gardening, Garden Design, and Southern Living. He is also an exceptional photographer. Visit www.troybmarden.com to review his work and photography.
Praise For Plant This Instead!: Better Plant Choices - Prettier - Hardier - Blooms Longer - New Colors - Less Work - Drought-Tolerant - Native…
"Beautiful color photos by the author provide valuable side-by-side comparisons and eye candy to help one visualize how suggested plants would fit into existing garden schemes." - Newsday
"This book is well organized, easy to understand, packed with excellent plant suggestions." - Gardening & Botany Magazine
or
Not Currently Available for Direct Purchase