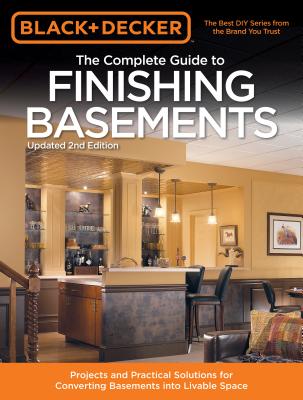 Black & Decker The Complete Guide to Finishing Basements (Paperback)
Projects and Practical Solutions for Converting Basements into Livable Space (Black & Decker Complete Guide)
Cool Springs Press, 9781591865889, 240pp.
Publication Date: September 1, 2013
* Individual store prices may vary.
Description
A fact-filled, 240-page manual that covers every aspect of designing and planning a basement conversion/remodeling project. With more than 600 color photographs, this book goes into thorough detail on crucial subjects like moisture and climate control, egress, ventilation, lighting, and many other issues. It deals comprehensively with adapting home mechanical systems to basement conditions. The many featured projects include finishing a bathroom stub-out, installing an all-new basement bathroom, insulating, repairing foundation walls, installing sump pumps, dehumidification strategies, as well as many other projects designed for livability. A special focus new to this edition presents information and projects for aging in place, including home elevators and chair lifts, monitoring and communication systems, and creating an accessible basement apartment. You will also find projects that show how to upgrade with luxury amenities, including a fireplace, sauna, home spa, exercise room, basement club/lounge and more.
About the Author
Creative Publishing international is a worldwide publisher of how-to books. The company's current retail offering includes over 300 titles on topics covering home improvement, home decorating, sewing, crafting, hunting & fishing, and photography. Over the past 15 years, CPi has developed high-quality photography step-by-step books with nationally recognized brand partners like Black & Decker and Singer.
Praise For Black & Decker The Complete Guide to Finishing Basements: Projects and Practical Solutions for Converting Basements into Livable Space (Black & Decker Complete Guide)…
Midwest Book Review
"A basement can be as fine a living space as any other area of the house. The Complete Guide to Finishing Basements is a home improvement guide for those who want to turn their utility room basement into a room to be enjoyed by the entire family, or just one person. Basements present their own challenges, such as moisture, lack of heat and light, among other issues, but many ideas are presented to remedy these. With extra advice on morphing one's basement into many types of more useful rooms, The Complete Guide to Finishing Basements is a fine choice for anyone who wants to make their bottom level something special."
About.com (5 star rating)
"This is a fat, 250+ page guide that takes you from inspiration to completion. I am not exaggerating when I say "complete," either. For instance, the guide not only presents you with at least six different basement flooring options, but goes into intricate detail about how to install each type of flooring.
"How do these Creative Publishing guides excel? The images. The images are what make these Black and Decker guides. As with previous guides, we still have the same elaborately constructed sets populated by a diverse set of people--everything well-lit and professionally photographed.
"Younger readers may be startled by the professionalism of these images. To these readers, the images may not seem 'real' enough. If you want 'real,' spend a day or two searching for user-generated content online and see what kind of basement you'll be able to finish from that advice. After squinting at grainy, darkly-lit photos (accompanied by little or no text narrative) taken by irritable DIY homeowners, you'll be praying for a crisp and clean view of the project at hand."