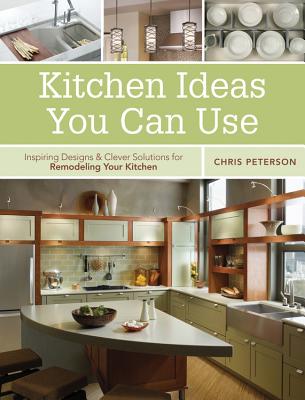 Kitchen Ideas You Can Use (Paperback)
Inspiring Designs & Clever Solutions for Remodeling Your Kitchen
Cool Springs Press, 9781591865902, 176pp.
Publication Date: February 15, 2014
* Individual store prices may vary.
Description
The kitchen: command center of the home, headquarters for all things edible, family-member traffic funnel. Whether you're a bachelor or bachelorette in a small starter home or part of a larger family, if this isn't the most-used room in your house, you must not be home very often. In the kitchen, functionality and aesthetics go hand-in-hand; the mood is just as important as the machinery, and if you're looking to capitalize on the space in your home - no matter how big or small - you're going to need a few pointers. Fortunately, in Kitchen Ideas You Can Use, our home Do-It-Yourself expert Chris Peterson gives you a chapter-by-chapter breakdown of all the kitchen essentials: cabinets, countertops, appliances, flooring, wall treatments, storage, islands, eat-in areas, lighting, and ventilation. Kitchen remodeling is normally the most expensive home improvement project. But with over 300 inspiring photographs, Peterson's straightforward insights, and our attention to the latest trends from professional designers, you can skip the cost of hiring a professional and craft your own kitchen--your own way. From choosing between traditional and induction cooktops to drawing up the most efficient layout scheme and landing on that perfect backsplash, Kitchen Ideas You Can Use might finally be the one thing in your house more useful than the microwave.
About the Author
Chris Peterson is a veteran home improvement and design author. Among the many books he has written are 5-Gallon Bucket Book, Building with Secondhand Stuff, Manskills, four books in the Ideas You Can Use series, and many books in Cool Springs Press's BLACK+DECKER Complete Guide series. He has also co-authored numerous home design books with noted media celebrities. He lives in Ashland, Oregon.
Praise For Kitchen Ideas You Can Use: Inspiring Designs & Clever Solutions for Remodeling Your Kitchen…
"Forecasted hot new trends in kitchen design include more neutral countertops, open cabinetry, farmhouse influences, large lighting, and architectural fixtures. Peterson (Building with Secondhand Stuff; Manskills) presents a collection of eye candy for your fantasy kitchen. Sections focus on layout, styles, countertops, storage and cabinets, fixtures, and lighting. The photos are lovely, but some are too small and sometimes don't best represent the targeted subject. The author's excellent commentary accompanies each photo, making sense of the illustrations. The section on color, particularly colored appliances, is interesting and timely. ­VERDICT ­Peterson's advice pulls this collection of photos together, but the reader will wish for more of it. Joanne Kellar Bouknight's Taunton's Kitchen Idea Book has more explanation and information about materials. It is important to keep a style collection ­up-to-date, though, and Peterson does offer inspiration in spades, making the book a worthwhile purchase." - Library Journal
"In this 99.9 percent picture book, home owners starting to consider a kitchen makeover will find a colorful wish book at their fingertips. On the other hand, don't expect instructions or even guidelines for remodeling; ideas are the sole subject here. Borrowing from the photographic stockpile of kitchen manufacturers, Peterson creates a flip book divided by size, style, color, surface, storage, appliances, fixtures, islands, lighting, and accents. Each, in turn, separates the photographs for better access. The surfaces chapter, for instance, zeros in on counters, backsplashes, and floors, and whelk fixtures cover faucets and sinks. All photographs are captioned, underscoring the visual's primary features (e.g., "opt for raw in industrial modern") with a few additional sentences of description. Chapter and section titles are a bit too advertising-heavy, but at least this book collects decorating ideas for one place: the heart of the home." �� Booklist
"The section on color, particularly colored appliances, is interesting and timely" – Library Journal, March 1 edition