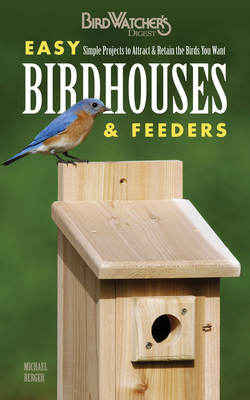 Easy Birdhouses & Feeders (Paperback)
Simple Projects to Attract & Retain the Birds You Want
Cool Springs Press, 9781591865995, 160pp.
Publication Date: May 15, 2014
* Individual store prices may vary.
Description
Discover tested, reliable (and easy) plans for building houses and feeders that attract the most popular backyard birds in North America. DIY birdhouses and feeders are inexpensive and relatively easy to make, even if you don't own a shops worth of tools or you have very limited carpentry experience. With a few materials and some entry-level skills, you can build cozy homes and an inviting backyard snack bar for all of your favorite feathered friends. In Birdwatcher's Digest Easy Birdhouses & Feeders, 30 original birdhouse and birdfeeder plans are covered by longtime expert Michael Berger, whose trusty mix of birding and handyman knowledge is backed by the reputation of Birdwatcher's Digest magazine. The book includes 16 plans for birdhouses and 14 for feeders and birdbaths. All plans feature friendly, complete illustrations and cutting lists, along with assembly instructions and helpful tips and photos. Recommendations for siting and hanging strategies are also included.Some of the species covered within this book are: the American Kestrel, the American Robin, the Barred Owl, the Bluebird, the Chickadee, the Flicker, the Flycatcher, the House Wren, the Nuthatch, the Purple Martin, the Screech Owl, and the Woodpecker
About the Author
Michael Berger is a nationally recognized home improvement expert and DIY enthusiast whose work has been featured in numerous regional and national publications. He is the author of The Best Birdhouses for Your Backyard (Popular Woodworking Books), and when not in his shop or watching birds, he spends his time underwater, identifying and documenting historic shipwrecks.
Michael Berger is a nationally recognized home-improvement and DIY expert and outdoor enthusiast. As a former editor for Popular Woodworking Books and HANDY Magazine, Mike has spent more than seventeen years teaching people to successfully build projects and work with tools. When not in his shop, he spends his time either underground mapping cave systems, or underwater identifying and documenting historic shipwrecks.
Praise For Easy Birdhouses & Feeders: Simple Projects to Attract & Retain the Birds You Want…
"Berger (The Best Birdhouses for Your Backyard) offers a tidy manual for bird enthusiasts, with the endorsement of Bird Watcher's Digest magazine. These are simple and very doable projects. While 16 different birdhouses are the focus, there are also ten bird feeders projects and four bird baths. This charming, compact book covers many bases. First is an introduction to general basics, including materials, tool use, and care of birdhouses. Each birdhouse project includes information about relevant species, proper placement, and construction details. Also included is a cutting list, a list of hardware and supplies needed, and an exploded view of the project, with measurements. These are not cutesy, artsy birdhouses shaped as rocket ships or castles; they are simple, plain structures that are meant to meet the needs of the bird, not the homeowner. Less detailed than Margaret A. Barker and Elissa ­Wolfson's Audubon Birdhouse Book, this title still contains species-specific information, along with tips to deter predators. VERDICT This rather small book (five-by-eight inches) might be a little pricey but will have broad appeal. These birdhouses, feeders, and baths could be easily constructed by younger hobbyists, not just adults. Recommended for all birding enthusiasts, as well as students." â?¬â? Library Journal