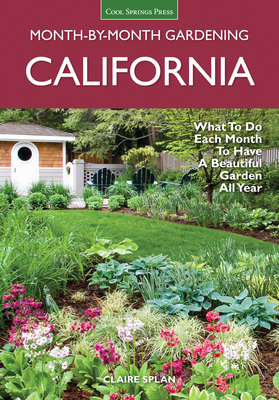 California Month-by-Month Gardening (Paperback)
What to Do Each Month to Have a Beautiful Garden All Year (Month By Month Gardening)
Cool Springs Press, 9781591866091, 240pp.
Publication Date: December 4, 2014
* Individual store prices may vary.
Description
It may be the Golden State, but your garden can be any color you want it to be. California is already famous as one of the world's leading fruit and vegetable producers--but a glance at a valley oak or California buckwheat is just a small glimpse of the native plants the state has to offer the home gardener. Written by Alameda resident and longtime gardening journalist Claire Splan, California Month-by-Month Gardening is the sister manual to our California Getting Started Garden Guide. Inside, Splan dedicates a thoroughly detailed chapter to each month of the year, telling you what species you should consider planting, precisely when you should plant them, and how to care for them for maximum health. Within each month are recommendations for annuals, bulbs, lawns (and lawn alternatives), natives, perennials, roses, shrubs, trees, vines, and groundcovers. An introductory overview of California's microclimates and soil types, along with a primer on general gardening techniques and a color-coded USDA zone map, prepares you to make your best effort as a gardener in California. Splan's instructions go much further than just the basics, as you learn how to plan, plant, care for, water, fertilize, and troubleshoot your diverse garden spaces during every single month of the year. Fully illustrated with beautiful color photography of the "how to" steps and plants, California Month-by-Month Gardening keeps your garden prosperous through all types of California weather and terrain. For our full introduction to gardening in California, we also recommend companion books California Getting Started Garden Guide and California Fruit & Vegetable Gardening.
About the Author
Claire Splan is a gardener and freelance writer in Alameda, California. After buying her first house in 2002, she began taking horticulture classes and remaking the gardens at her home, writing about her experiences there and her growing interest in gardening and environmental issues at her garden blog, An Alameda Garden (alamedagarden.blogspot.com). A member of the Garden Writers Association, Claire has been published in the San Francisco Chronicle, Rosebud, and Firsts magazine and reviews gardening books for the New York Journal of Books (www.nyjournalofbooks.com). She has degrees from the University of Southern California and the University of San Francisco and has studied landscape horticulture at Merritt College. Claire is the author of Cool Springs Press' California Fruit and Vegetable Gardening (2012) and California Month-by-Month Gardening (due to publish in 2014).Blog: http://alamedagarden.blogspot.comTwitter: http://twitter.com/AlamedaGardenerNY Journal of Books: http://nyjournalofbooks.com/reviewer/claire-splan