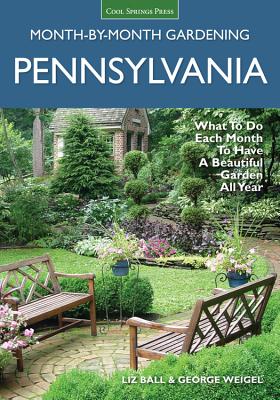 Pennsylvania Month-by-Month Gardening (Paperback)
What to Do Each Month to Have A Beautiful Garden All Year (Month By Month Gardening)
Cool Springs Press, 9781591866305, 240pp.
Publication Date: June 8, 2015
* Individual store prices may vary.
Description
The when-to and how-to schedule for growing, caring for, and maintaining your Keystone State garden!
Never garden alone! The Month-by-Month Gardening series is the perfect companion to take the guesswork out of gardening. With this book, you'll know what to do each month to have gardening success all year, from January to December. It's full of the when-to and how-tos of gardening along with richly illustrated step-by-step instructions, so you can garden with confidence.
Reap the benefits of the gardening "experiments" and experience by authors Liz Ball and George Weigel.
With a fresh look and updated information, Pennsylvania Month-by-Month Gardening includes all the when-to and how-to information that has made these books so popular over the years, presented in a new, easier-to-use format with more full-color photography and the most current information available. Complete with specific advice on growing flowers (both annuals and perennials), bulbs, grasses (both lawn and ornamental), roses, groundcovers, shrubs, trees, and vines, this book is one no garden lover will want to miss! In the winter, certain tasks are needed to plan for and improve the next growing season. And once things really start growing in the spring and summer, you'll find advice on the best way to get the most beautiful flowers, the lushest lawns, and the sturdiest trees. From planting to watering and fertilizing, and from maintenance to problem solving, Pennsylvania Month-by-Month Gardening shows all levels of gardeners the best practices to grow satisfying and rewarding results.
About the Author
Liz Ball is a horticultural writer, photographer, researcher, and teacher whose articles and photographs have appeared in numerous catalogs, magazines, and books. Ball wrote regularly for the National Garden Bureau and Burpee's websites. Her weekly Yardening column appeared in her local newspaper for more than fourteen years. Ball has authored or co-authored a multitude of books, including the Pennsylvania Gardener's Guide (also for Cool Springs Press).
She writes on a large number of topics for gardeners but specializes in addressing issues that concern non-gardening homeowners who have lawns and plants to care for but a limited amount of time or interest of working in the yard (whom she calls "yardeners.") After decades spent teaching writing, literature, and history at the secondary school level, Ball devoted herself to horticulture. She has taught courses on gardening for local community adult and arboretum programs, as well as for various universities. Ball is a frequent lecturer, speaking often to garden clubs, hort societies, civic groups and to the public. In her spare time, Ball concentrates on a two-acre yard that serves as her informal laboratory and demonstration garden for all her "experiments."
George Weigel is a garden writer, garden designer, garden speaker, Pennsylvania Certified Horticulturist, and--as his balding, plant-killing brother likes to put it--a "Certified Gardening Wacko." In central Pennsylvania, George is best known for his Over the Garden Fence columns that have appeared weekly in the Patriot-News, Harrisburg's newspaper, since 1993. The Garden Writers Association named George's column as one of America's five best garden columns in 2008. His articles have also appeared in such magazines as Horticulture, People, Places and Plants, Green Scene, Pennsylvania Gardener, and Central PA Magazine. When he's not writing, George spends his time operating his own garden-design and consulting business for DIYers, leads garden-themed tours, gives frequent lectures, and is a member of the Pennsylvania Horticulture Society's Gold Medal Plant Award committee. George is the author of Cool Springs Press' Pennsylvania Getting Started Garden Guide (2014).