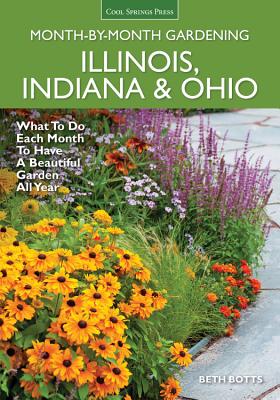 Illinois, Indiana & Ohio Month-by-Month Gardening (Paperback)
What to Do Each Month to Have a Beautiful Garden All Year (Month By Month Gardening)
Cool Springs Press, 9781591866435, 208pp.
Publication Date: February 1, 2016
* Individual store prices may vary.
Description
The when-to and how-to schedule for growing, caring for, and maintaining your garden in Illinois, Indiana, and Ohio!
Never garden alone! The Month-by-Month Gardening series is the perfect companion to take the guesswork out of gardening. With this book, you'll know what to do each month to have gardening success all year, from January to December. It's full of the when-tos and how-tos of gardening along with richly illustrated step-by-step instructions, so you can garden with confidence.
With a fresh look and updated information, Illinois, Indiana & Ohio Month-by-Month Gardening includes all the when-to and how-to information that has made these books so popular over the years, presented in a new, easier-to-use format with more full-color photography and the most current information available. From planting to watering and fertilizing, and from maintenance to problem solving, Illinois, Indiana & Ohio Month-by-Month Gardening shows all levels of gardeners the best practices to grow satisfying and rewarding results.
About the Author
Beth Botts has written hundreds of articles about gardens and nature for publications including the Chicago Tribune and magazines including Organic Gardening, Country Gardens and Chicagoland Gardening. Raised on the south side of Chicago by an organic gardener, she now gardens in deep shade on the north side of a four-story apartment building. Botts is a senior writer at The Morton Arboretum in Lisle, Illinois. Her website is thegardenbeat.com.