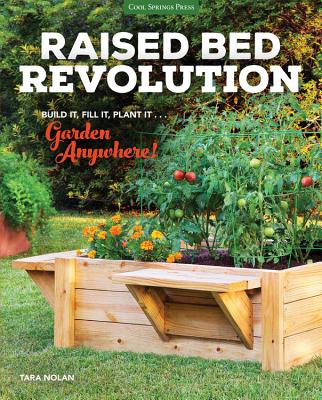 Raised Bed Revolution (Hardcover)
Build It, Fill It, Plant It ... Garden Anywhere!
Cool Springs Press, 9781591866503, 272pp.
Publication Date: May 1, 2016
* Individual store prices may vary.
Description
Raised bed gardening is the fastest-growing garden strategy today, and Raised Bed Revolution is the definitive guidebook to mastering this consistently proven and effective gardening method.

Raised Bed Revolution provides you with information on size requirements for constructing raised beds, height suggestions, types of materials you can use, and creative tips for fitting the maximum garden capacity into small spaces--including vertical gardening.
Enhanced with gorgeous photography, this book covers subjects such as growing-medium options, rooftop gardening, cost-effective gardening solutions, planting tips, watering strategies (automatic water drip systems and hand watering), and more. The process of creating and building raised beds is a cinch, too, thanks to the extensive gallery of design ideas and step-by-step projects.
This gardening strategy is taking serious root. Why? Several reasons:
Raised beds allow gardeners to practice space efficiency as well as accessibility (the beds can be customized to be any height).
Raised beds permit gardeners to use their own soil, and they can be designed with wheels for easy portability if partial sunlight is a problem.
Water conservation is easier for gardeners who use raised beds.
Pest control is assisted because most garden pests can't make the leap up into the raised bed. For yards that struggle with drainage, raised bed gardening offers a no-brainer solution. Raised beds simply create a more interesting yard!
Find out more about why everyone is joining the raised bed revolution, roll up your sleeves and join in!
About the Author
Tara Nolan is a freelance writer from the Toronto, Canada, area. Working as an editor and digital consultant, her publishing background is diverse. She's worked everywhere from Yahoo! Canada to Canadian Home Workshop. For over six years, Tara was the web editor of CanadianGardening.com where she won a Canadian Online Publishing Award for the Seed to Supper newsletter. She is a member of the Garden Writers Association and a co-founder of Savvy Gardening. She loves to write about travel, gardening, decor, and health and fitness for print and online publications. If she's not writing, you'll find Tara in the garden, mountain biking, or handcrafting a new project.
Praise For Raised Bed Revolution: Build It, Fill It, Plant It ... Garden Anywhere!…
"I remember a time when no one grew in raised beds but now every garden has at least one to grow in.  In this great new book by Tara Nolan she covers everything from raised bed construction to the importance of what you fill your bed with, as well as best types of materials, suitable irrigation systems and step by step projects.  There are lots of great photographs that will hopefully inspire you to join the revolution as well.  This is a great good for the experienced gardener as well as the novice."

-Garden Book of the Month, August 2016
- David Williams, Four Shires magazine