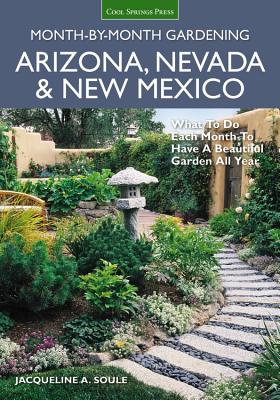 Arizona, Nevada & New Mexico Month-by-Month Gardening (Paperback)
What to Do Each Month to Have a Beautiful Garden All Year (Month By Month Gardening)
Cool Springs Press, 9781591866701, 216pp.
Publication Date: December 1, 2016
* Individual store prices may vary.
Description
The when-to and how-to schedule for growing, caring for, and maintaining your Southwest garden!
Spade? Check. Work gloves? Check. Month-by-Month Gardening guide? Come on - you must admit a great reference book is key to successful gardening in the region where you live. Arizona, Nevada & New Mexico Month-by-Month Gardening takes the guesswork out of gardening for anyone residing in the Southwest. With this book, you'll know what to do each month to enjoy a thriving garden all year, from January to December. Chronologically organized, this guide is full of critical gardening when-to and how-to advice, along with illustrated step-by-step instructions.
The book's author is Jacqueline Soule, a Tucson-based gardening expert. She knows this arid region inside and out, and she's written several articles and books packed with her gardening advice. Arizona, Nevada & New Mexico Month-by-Month Gardening showcases Soule's expertise in one easy-to-read guide.
Inside, readers find brilliant garden photography and the most current information available. Complete with specific advice on growing flowers (both annuals and perennials), trees, groundcover, cacti, succulents, lawns, and more, you'll not find a better reference book. From planting to watering and fertilizing, and from maintenance to problem solving, Arizona, Nevada & New Mexico Month-by-Month Gardening shows all levels of gardeners the best practices for gardening in climates and weather conditions of all kinds. If you're a gardener living in Arizona, Nevada, or New Mexico, make sure this essential guide has a home on your bookshelf.
About the Author
Jacqueline A. Soule is a botanist and garden writer from Tucson. She has developed strong expertise as a gardener in the Southwest. As a garden writer, Soule has contributed more than a thousand gardening columns for local, regional, and national newspapers and magazines, and she has written or been the technical writer for numerous gardening books. Soule teamed up with the Tierra del Sol Institute to develop its Arizona Gardening Series, consisting of Butterfly Gardening in Southern Arizona (2012) and Success With Succulents (2013). She is the author of SouthwestFruit & Vegetable Gardening (Cool Springs Press). When she's not writing gardening columns or books, Soule is a speaker and educator, offering a wide array of plant-related workshops, classes, and other programs throughout southern Arizona, including through OASIS Tucson. She loves to landscape with plants that require as little care as possible. Many of the plants in her books were test grown in her own yard.