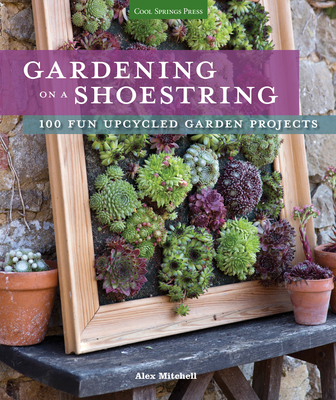 Gardening on a Shoestring (Paperback)
100 Fun Upcycled Garden Projects
Cool Springs Press, 9781591866718, 160pp.
Publication Date: January 29, 2016
* Individual store prices may vary.
Description
Growing a pretty garden doesn't have to cost a pretty penny--learn how to create a low-cost garden using a little elbow grease, a lot of creativity, and this book.
Gardening on a Shoestring will ease the tension on any gardener's pocketbook, while inspiring them with fun, creative projects for up-cycling, gardening ideas, tips, and alternative designs that will make gardening a pleasure--and an economical one, to boot!
By combining classic gardening skills with ultra-creative ideas, author Alex Mitchell teaches readers 100 ways to up-cycle their gardens by creating ingenious green-thumb DIY projects and grow lush gardens. From up-cycling common objects (such as tin cans, old potato sacks, and colanders) to revisiting basic garden techniques (growing from seed, for example), a garden's overall cost can drop dramatically. Thanks to photography, illustrations, and plenty of additional tips, this book has plenty of fodder for readers to create a better garden.
Included in Gardening on a Shoestring are outdoor furnishing projects, edible gardening information, and sage advice for garden upkeep. Examples of what you'll find include:
Vintage tin herb garden
Tapestry of succulents
Garden center shopping tips
Water-bottle watering system
Gardening stools from old tires
How to notspend a fortune online
. . . and much more!
Whether you're a new homeowner tackling the mortgage monster, a renter not wanting to leave permanent traces in your temporary home, or a cost-conscious gardener looking for a slew of creative tips, this book belongs on your bookshelf.
About the Author
Alex Mitchell studied at the Chelsea Physic Garden and writes regularly for magazines and newspapers, including the Sunday Telegraph and Gardener's World magazine. For years, she has grown her own fruit, vegetables, and herbs, transforming her garden into a verdant and edible treasure trove. Mitchell is the author of The Edible Balcony (2010) and The Rurbanite (2013), both published by Kyle Books.
Praise For Gardening on a Shoestring: 100 Fun Upcycled Garden Projects…
"Gardening on a Shoestring offers both beginner and experienced gardeners some creative and affordable tricks and tips. With information about both edible and ornamental gardening, it is a delightful resource and a charming inspiration."
- Plant Talk - New York Botanical Gardens blog