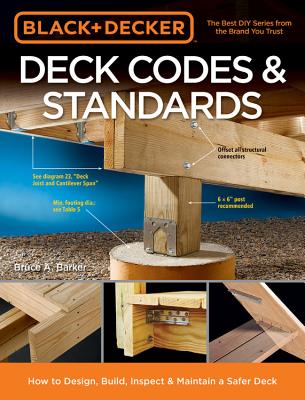 Black & Decker Deck Codes & Standards (Paperback)
How to Design, Build, Inspect & Maintain a Safer Deck
Cool Springs Press, 9781591866855, 128pp.
Publication Date: June 5, 2017
* Individual store prices may vary.
Description
In BLACK+DECKER Deck Codes & Standards, national authority on building codes, Bruce Barker, explains how to both design and build decks within legal limits.

In BLACK+DECKER Deck Codes & Standards Barker accurately shows how to design and build decks right. Given that every year in the U.S. more than 120,000 people are injured by deck collapses, and more than 50 die, following Barker's careful and detailed advice is the surest way for a homeowner to protect against disaster.
Using the same common-sense approach he used in his bestselling book BLACK+DECKER Codes for Homeowners, Barker isolates the aspects of deck building that are the most frequent sources of trouble and shows--with photos, illustrations, and commentary--exactly how to do it correctly.
Barker's new book is not only for DIYers who are building a brand new deck. National deck building codes have changed significantly in the past five years: 4 x 4 posts are no longer allowed for structural purposes that a few years ago were deemed fine, and minimum diameter requirements for concrete posts have doubled in many applications. If your existing deck is more than two or three years old, you'll want this detailed but accessible volume.
About the Author
Bruce A. Barker is president of Dream Home Consultants, LLC., a Cary, North Carolina based building inspection and consulting firm. He has built or inspected more than 3,000 homes during his 29 years in the construction and building inspection industries. Mr. Barker is a Residential Combination Inspector, certified by the International Code Council. He is also a licensed contractor in Arizona, Florida, and North Carolina.
Mr. Barker is a member of the American Society of Home Inspectors (ASHI). He currently serves on the Board of Directors after prior service as chairman of the Society's national Standards of Practice Committee. He is also vice president of the North Carolina ASHI chapter. Mr. Barker is a frequent contributor of technical articles to ASHI Reporter, Home Energy, Builder News, and other publications. Mr. Barker is also a member of the International Code Council.
Praise For Black & Decker Deck Codes & Standards: How to Design, Build, Inspect & Maintain a Safer Deck…
Whether you are a homeowner, a builder, or inspector, this book is for you. VERDICT This excellent and valuable manual is highly ­recommended for homeowners and builders.
 
- Library Journal