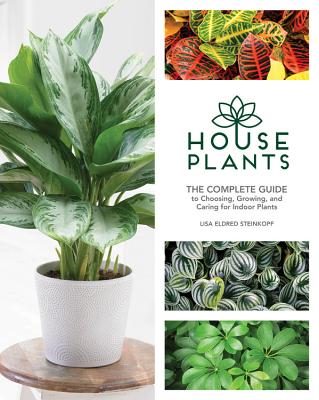 Houseplants
The Complete Guide to Choosing, Growing, and Caring for Indoor Plants
Hardcover

* Individual store prices may vary.
Description
Transform your home into a verdant retreat with this information-packed guide to houseplant care, with profiles for over 125 different plants.
Well-chosen, well-cared-for houseplants bring life to a room, both literally and figuratively. They
add color, texture, motion, uniqueness, beauty
—and they even
improve air quality
. They also
fulfill our need to nurture
and care for other living things. In
Houseplants
, expert grower Lisa Eldred Steinkopf gives you the advice and information you need to confidently bring a plant (or two, or more!) home and find joy in keeping it lush and healthy.
Achieve success with your houseplants by:
Making smart selections: Choose plants that are suited for your space and conditions.
Savvy siting: Where the plant is placed is as important as what it is.
Taking care: Proper maintenance goes far beyond watering; learn how to fertilize, groom, troubleshoot, propagate, and more.
Becoming an educated owner: The book includes 125+ profiles of the most popular, cutting-edge plant species.
Organized by relative ease of care, the plant profiles offer the
common and botanical names
,
light
preference,
watering
guidelines, whether and
under what conditions it flowers
, its
size and growth potential
,
propagation tips
, and available
cultivars
.
Featuring
stunning photography
and a
modern design
,
Houseplants
is a must-have resource for every houseplant parent.
Praise For Houseplants: The Complete Guide to Choosing, Growing, and Caring for Indoor Plants…
"Comprehensive, useful, and a delight to pore through, this really is the 'complete guide' to houseplants! "—
FloweryProse.com
"Houseplants gives you the best techniques to water, fertilize, groom, propagate and more—helping you keep your plants healthy."—
Michigan Gardener
"This book definitely delivers on what it sets out to achieve and I hope it will empower readers to embrace the houseplant revival."
—
The Garden Magazine
Cool Springs Press, 9781591866909, 272pp.
Publication Date: October 23, 2017
About the Author
Lisa Eldred Steinkopf is The Houseplant Guru, who features all things houseplants on her blog, thehouseplantguru.com. She is the author of Houseplants and Grow in the Dark and has written for HGTVgardens.com, Real Simple magazine, Michigan Gardener Magazine, the houseplant section of Allan Armitage's Greatest Perennials and Annuals app, and Michigan Gardening Magazine, where she writes a monthly column. She worked for more than a decade at Steinkopf Nursery as the Annuals and Houseplants Manager, and has been interviewed online, in print, and on TV about houseplants. She harbors well over 1,000 houseplants in her home.