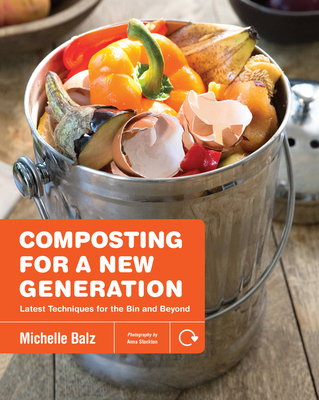 Composting for a New Generation (Paperback)
Latest Techniques for the Bin and Beyond
Cool Springs Press, 9781591866923, 192pp.
Publication Date: December 19, 2017
* Individual store prices may vary.
Description
These aren't your grandpa's composting methods, Composting for a New Generation covers the modern composting techniques, vermicomposting, composting with nature, keyhole gardens, organic composting, and using compost.

Environmentalists aren't the only ones to compost anymore! It's not just about reducing food waste; most composters get their hands dirty because of the benefits it brings to the soil in their garden. All the extra nutrients make for well-fed gardens with plenty of nutrients and rich moisture.
 
Composting has "been under the radar screen until now, and seen as a boutique, West Coast thing," says Jared Blumenfeld, who oversees California as well as two other Western states and the Pacific for the Environmental Protection Agency. "But now everyone from Massachusetts to Minnesota has programs starting up, and pretty soon there will be a critical mass."
 
Composting for a New Generation includes tried-and-true composting methods and new, innovative techniques. You'll learn the science of composting, traditional bin composting (including how-to sections on building your own bin), vermicomposting (with worms), composting with nature, keyhole gardens, organic composting, and using your finished compost. Composting for a New Generation is the most complete book to date for your organic soil needs.
About the Author
Michelle Balz is a long-time backyard composter with a passion for reducing our impact on the planet. She spends her days writing laid-back advice for home composters in the Confessions of a Composter blog, teaching classes on backyard composting, and learning everything she can about composting, recycling, reusing, and waste reduction. Since 2002, Michelle has worked as a solid waste (a.k.a. garbage) professional encouraging residents and businesses to reduce their waste and use fewer resources. Michelle has a bachelor's degree in Environmental Studies and a master's degree in Professional Writing both from the University of Cincinnati. She lives in Cincinnati, Ohio.
Anna Stockton earned her BFA in Photography from the Savannah College of Art and Design and is a member of the American Society of Media Photographers. With over fifteen years of experience in professional photography, Stockton has worked for Cincinnati clients such as WCET-TV and national clients including Marc by Marc Jacobs, has taught as a photography instructor at the college level, and has worked as a photo specialist with Sony Digital Imaging. This is her first book.
Praise For Composting for a New Generation: Latest Techniques for the Bin and Beyond…
Would-be and even experienced composters can discover all about the science and practise of composting
- Toronto Gardens
I highly recommend adding Composting for a New Generation to your reading list. After reading this book, you either be even happier that you're already a composter or decide to become one to receive all the benefits you're currently missing out on. It's a book that you'll turn to again and again as a reference guide.
- The Farmer's Garden