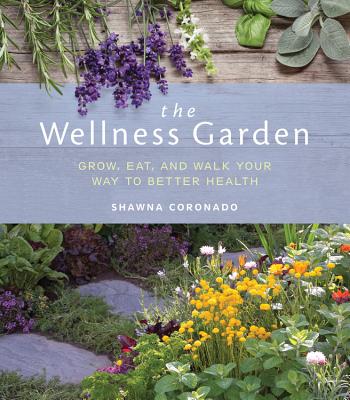 The Wellness Garden (Paperback)
Grow, Eat, and Walk Your Way to Better Health
Cool Springs Press, 9781591866947, 160pp.
Publication Date: December 4, 2017
* Individual store prices may vary.
Description
Don't sacrifice your garden or green space because you suffer from chronic pain, health issues, or other ailments. The Wellness Garden is your guide!

If you love to garden but also worry about the physical strain, or if you are in search of ways to promote a healthier lifestyle, and even combat specific, chronic, health issues, then noted garden author and speaker Shawna Coronado has good news for you! You can stay active, fight chronic pain, and keep the garden you've worked so hard to cultivate.

In The Wellness Garden, her new book from Cool Springs Press, Shawna details exactly how she has learned to use her garden as a key tool in her battle with osteoarthritis and other chronic pain issues. In this inspiring but highly practical book you will learn from Shawna's life changing garden experience and see how you can create your own Wellness Garden--and gain the healthier lifestyle you desire and deserve.
About the Author
Shawna Coronado is an author, columnist, blogger, photographer, and spokesperson for organic gardening, green lifestyle living, and culinary preparation who campaigns for social good. Shawna's goal in authoring gardening and green lifestyle books is to promote a world initiative to encourage healthy and sustainable living. Shawna was featured as a Chicago Tribune "Remarkable Woman" and speaks internationally on building community, simple urban garden living, and green lifestyle tips for the everyday person. Shawna lives in the western suburbs of Chicago where she has a suburban front lawn vegetable garden. This adventurous garden is highlighted in all her books and has been featured in many media venues including radio, and TV. Her organic living photographs and stories have been shown both online and off in many international home and garden magazines and multiple books. You can learn more about her at www.shawnacoronado.com.
Praise For The Wellness Garden: Grow, Eat, and Walk Your Way to Better Health…
...no matter what types of health or physical challenges readers might have, there is much to learn from each page.
- Susan's In The Garden Blog
"a delight to pick up anytime and thumb through"
?"an inspiring and informative read" 
- Barbara Wilkinson, Herbs Magazine
"If you or someone you know is seeking wellness for whatever reason, I prescribe Coronado's book—plus time spent in a garden, of course."
- The American Gardener
"this book is an inspirational guide to everything from using ergonomic tools to finding ways to designing your garden as a therapeutic space"
- Grow Your Own magazine