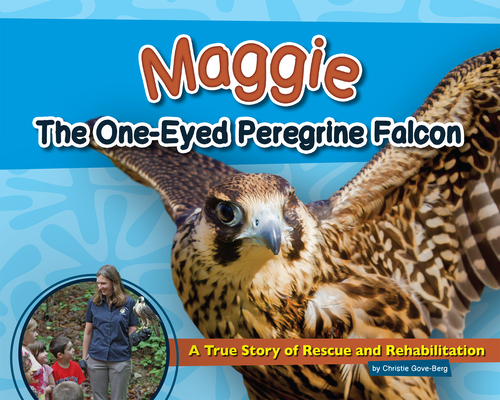 Maggie the One-Eyed Peregrine Falcon
A True Story of Rescue and Rehabilitation (Wildlife Rescue Stories)
Hardcover

* Individual store prices may vary.
Description
The True Story of a Peregrine Falcon's Rehabilitation
Maggie has just learned to fly when she crashes into the side of a building. She falls to the ground, alone and injured. Who will help her? As told with real photographs, this true story explains how wildlife hospitals rescue and treat injured animals. Their goal is to release the animals back into the wild. Sometimes, this isn't possible--but there can still be a happy ending. Maggie's story, a Mom's Choice Awards Gold Recipient, is just such a success
Award-winning author Christie Gove-Berg began writing the Wildlife Rescue Stories after her mom and dad found an injured eaglet on their land.

The Wildlife Center of Virginia helped in Maggie's rescue and rehabilitation, and they assisted in ensuring this book's accuracy.
Part of the proceeds from the sale of Maggie the One-Eyed Peregrine Falcon will benefit the Wildlife Center.
Adventure Publications, 9781591935162, 32pp.
Publication Date: April 26, 2016
About the Author
Christie Gove-Berg loves nature and wildlife. Her first book, Esther the Eaglet, was written after the rescue of an injured eaglet on her parents' land. Her second book in the series, Maggie the One-Eyed Peregrine Falcon, was inspired by a young bird that was injured while learning to fly in the middle of a big city. (Now Maggie is an educational bird at The Wildlife Center of Virginia, teaching people about raptors.) Christie's regional book, Minnesota Must-See for Families, encourages families to document their Minnesota adventures together. Christie donates a portion of the profits from her raptor books to The Raptor Center at the University of Minnesota and The Wildlife Center of Virginia. When she has free time, Christie enjoys writing, reading, cooking, hiking, and camping. Her perfect day would be a kayak ride to a sandy beach on the St. Croix River with her friends and family. And lots of laughter.