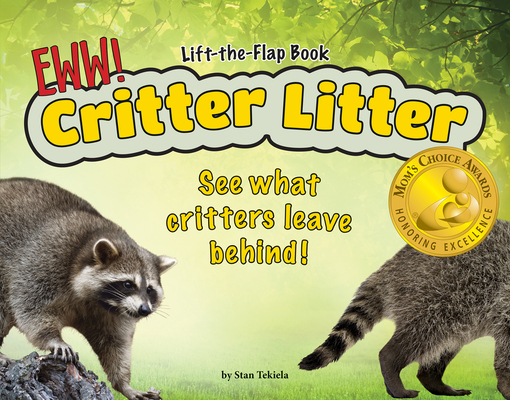 Critter Litter (Board Books)
See What Critters Leave Behind!
Adventure Publications, 9781591935902, 26pp.
Publication Date: March 1, 2016
* Individual store prices may vary.
Description
Critter Litter: See what critters leave behind is a Mom's Choice Awards(R) Gold Recipient Kids will be crazy about critters after this engaging introduction to wildlife Award-winning author, naturalist and photographer Stan Tekiela shares fun facts about 12 animals and the "litter" they leave behind. Young readers will learn to tell what's visited the area by the signs left behind: animal tracks, food and, yes, even scat (poop) Let kids giggle as they learn to appreciate mammals and the natural world. This entertaining, educational book features: Flaps that children can lift in order to see the scat
Fun facts and professional photos of 12 mammals
Several different signs per species to look for.
About the Author
Naturalist and wildlife photographer Stan Tekiela has written more than 130 books, including nature appreciation books and children's books. He is perhaps best known for his popular state-specific field guide series, which now includes books about birds, mammals, trees and wildflowers. Holding a Bachelor of Science degree in Natural History from the University of Minnesota and as an active professional naturalist for more than 25 years, Stan studies and photographs wildlife throughout the United States and Canada. He has received various national and regional awards for his books and photographs. Also a well-known columnist and radio personality, his syndicated column appears in more than 25 newspapers and his wildlife programs are broadcast on a number of Midwest radio stations. Stan can be followed on Facebook and Twitter. He can be contacted via naturesmart.com.