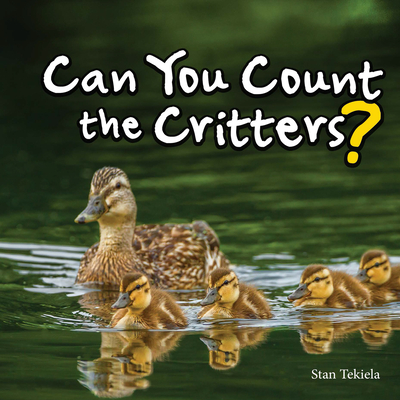 Can You Count the Critters? (Hardcover)
Adventure Publications, 9781591938194, 32pp.
Publication Date: May 28, 2019
* Individual store prices may vary.
Description
Animal photos help your child learn to count the numbers
Watching your kids learn to count is both satisfying and exciting. It is such a wonder to see their minds at work, learning new concepts. Make your child's exploration of numbers and counting even more rewarding with Can You Count the Critters? Award-winning wildlife photographer and author Stan Tekiela presents this 123 book that features his amazing images of animals in their natural habitats. From one monarch butterfly to twelve bison, the wildlife shown here will captivate your counter's attention. Not only does Can You Count the Critters? aid children in recognizing numbers, it also instills an early appreciation for the wild and beautiful creatures of North America. You'll have fun teaching youngsters numbers with the help of fuzzy, furry little critters.
About the Author
Naturalist, wildlife photographer and writer Stan Tekiela is the originator of the popular Wildlife and Nature Appreciation book series that includes Bird Migration and Wildflowers. Stan has authored more than 190 educational books, including field guides, quick guides, nature books, children's books, playing cards and more, presenting many species of animals and plants. With a Bachelor of Science degree in Natural History from the University of Minnesota and as an active professional naturalist for more than 30 years, Stan studies and photographs wildlife throughout the United States and Canada. He has received various national and regional awards for his books and photographs. Also a well-known columnist and radio personality, his syndicated column appears in more than 25 newspapers, and his wildlife programs are broadcast on a number of Midwest radio stations. Stan can be followed on Facebook and Twitter. He can be contacted via www.naturesmart.com.