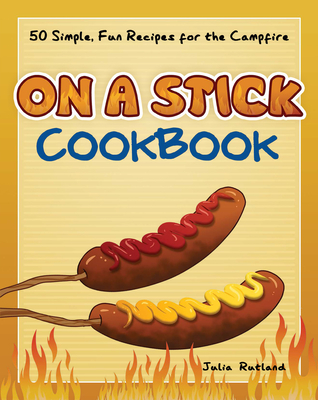 On a Stick Cookbook
50 Simple, Fun Recipes for the Campfire
Paperback

* Individual store prices may vary.
Description
Make Campfire Cooking Even More Fun and Delicious
If you've ever camped, cooked over a fire, or eaten at your local fair, then you know that food is best served on a stick Julia Rutland's On a Stick Cookbook features 50 recipes to please any fan of flamed foods. The author is a professional writer, recipe developer, recipe tester, food stylist, and television/media demonstrator, so you can be certain that every recipe is a crowd-pleaser. Enjoy desserts like Grilled Strawberry Shortcake Kebabs, entrees like Meatball Sub on a Stick, appetizers like Canadian Bacon-Wrapped Shrimp, and breakfasts like Sausage-and-Gravy Biscuit Cups. With this simple and quirky cookbook as your guide, you'll gather family and friends around the fire and have as much fun preparing the meal as you will eating it On a Stick Cookbook is exactly what you need to turn your next camping trip or backyard barbecue into a festival of fun. Plus, it's low price makes it easy to send your guests home with a copy of their own.
Adventure Publications, 9781591938217, 80pp.
Publication Date: June 11, 2019
About the Author
Julia Rutland is a Washington, D.C.-area food writer and recipe developer whose work appears regularly in publications and websites such as Weight Watchers books, Southern Living magazine, Coastal Living magazine, and more. She is the coauthor of Discover Dinnertime and a contributor to many other cookbooks and websites. Julia has visited all 50 states and camped with her family in most of them, sleeping in tents, campers, or occasionally just under the stars. Her kitchen gear takes up more space than the tent or other camping supplies because she feels that cooking outside is more fun than hiking. Julia lives in Purcellville, Virginia, with her husband, two daughters, a cat, a couple of dogs, too many chickens, and whatever animals decide to adopt them.