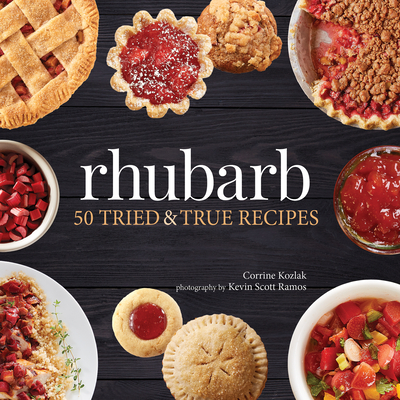 Rhubarb (Paperback)
50 Tried and True Recipes
Adventure Publications, 9781591938286, 140pp.
Publication Date: May 21, 2019
* Individual store prices may vary.
Description
The cookbook that captures the taste of summer
An unusual yet surprisingly common perennial, rhubarb is among the first spring plants to emerge. It has a subtle yet distinct tart, earthy flavor--and it conjures distant memories of parents, grandparents, and neighbors. Rhubarb is a cookbook by Corrine Kozlak that features 50 recipes to please any rhubarb lover. The author has compared, tested, tasted, and photographed every recipe. From drinks and desserts to breads, salads, and even main dishes, the options presented here will become instant family favorites, enjoyed time and again. The book's full-color photography and Corrine's witty asides add to the enjoyment of cooking. Plus, growing tips and the vegetable's fascinating history make Rhubarb even more useful.
People love rhubarb because it connects them to the past and to the future. It reminds them of summers long ago, and it is a predictable, dependable plant that promises to return. Add Rhubarb to your cookbook collection, and savor this wonderful variety of delicious dishes.
About the Author
Corrine Kozlak has worked in the Kraft test kitchen, as a food stylist for the Chicago Tribune, and as a freelance food stylist for many years. This cookbook is the culmination of what she has learned about gardening; testing, creating, and adapting recipes; and styling food. Corrine has always thought that rhubarb was a lovely plant, with an interesting and unique flavor, going back to her childhood on the Minnesota prairie. Kevin Ramos has worked as a professional photographer for more than 25 years. He has taken countless images of people, products, and food. Shooting a cookbook from cover to cover had always been a dream of Kevin's. He learned so much about rhubarb while working on this project--and was sure to taste-test every recipe along the way!