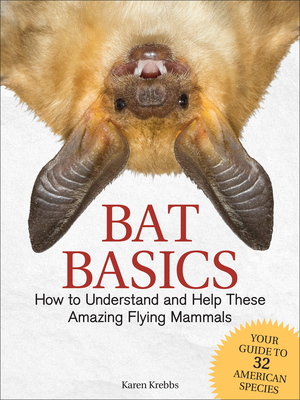 Bat Basics
How to Understand and Help These Amazing Flying Mammals
Paperback

* Individual store prices may vary.
Other Editions of This Title:
Hardcover (10/8/2019)
Description
Separate Fact from Fiction with This Fun, Fascinating Guide
We need bats to eat mosquitoes, pollinate plants, and more. Karen Krebbs has been studying the world's only flying mammals for more than 35 years--and she's sharing her expertise with you. Learn the bat basics, such as how they use echolocation, why they hibernate, and what they eat. Then use the field guide section to identify common and important species to know.
Inside You'll Find
Bat myths debunked--they won't really fly in your hair or try to bite
Identification guide to 32 North American species
Instructions on how to bat-proof a house and what to do if you find a bat indoors
Projects, activities, and tips to help bats
Get Bat Basics, and celebrate the amazing lives of bats
Adventure Publications, 9781591938439, 128pp.
Publication Date: October 8, 2019
About the Author
Karen Krebbs worked at the Arizona-Sonora Desert Museum for more than 26 years, and she now works on her own as an independent contractor. She has extensive knowledge of birds, mammals, deserts, and animal adaptations and behavior. Karen has carried out research for bats in the United States and Mexico for more than 30 years. She trains biologists on the proper protocol for handling and studying bats. Karen regularly carries out workshops and presentations on bats and birds to groups, schools, festivals, and organizations in the Southwest and Mexico. Her long-term inventory and monitoring program for bats in the Chiricahua Mountains continues in its twentieth year of study. She has written articles, books, and manuals about bats and birds. She has collaborated with other researchers on many bat research projects, involving local government agencies, universities, research partners in Mexico, and nonprofit organizations. Karen has participated in natural history learning in Arizona, Texas, New Mexico, Mexico, Costa Rica, Africa, Galapagos, and Ecuador. Karen's passion for bats is contagious! Her animal lectures and presentations are exciting and fun. Karen has a Bachelor's Degree in Wildlife and Fisheries Science from the University of Arizona. Karen's latest books include "Desert Life: A Guide to the Southwest's Iconic Animals and Plants & How They Survive"; "Desert Life of the Southwest Activity Book"; and "Explore Tucson Outdoors."