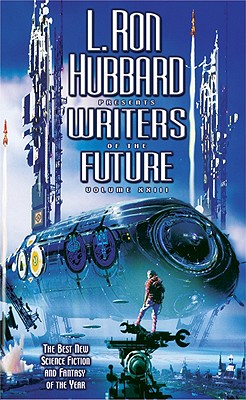 Writers of the Future
Paperback

* Individual store prices may vary.
Description
Imagine a place where anything is possible, nothing is beyond reason, and everything is an adventure. Get into their worlds....
These are the visionaries. The masters of the universe. The power players of tomorrow. They have seen the future. Have you?
Kevin J. Anderson calls the anthology, "Awesome" and Orson Scott claims that Writers of the Future is ..".the best anthology published today.
Praise For Writers of the Future…
"The Writers of the Future Contest has not only provided a place where new writers could break into print for the first time—but it also has a record of nurturing and discovering writers who have gone on to make their mark in the science fiction field. Long may it continue!"
—Neil Gaiman, Author

 "A very generous legacy from L. Ron Hubbard—a fine, fine fiction writer—for the writers of the future."—, Author - Anne McCaffrey

L. Ron Hubbard Presents Writers of the Future: Volume XXIII 
Edited by Algis Budrys. Galaxy, $7.99 (554p) ISBN 978-1592123988
Those looking for a new group of classic, hard science fiction writers need look no further than the latest volume of Galaxy's always-reliable original anthology series. A distinguished panel of judges, including Orson Scott Card, Larry Niven and Jack Williamson, selected 13 quality stories by relative newcomers touched with imagination and inventive plotting. The standout is Jeff Carlson's "The Frozen Sky," a pulse-pounding account of an encounter with extraterrestrial life beneath the surface of Jupiter's moon Europa, but several others will linger in the reader's mind. Fresh names worth watching include Tony Pi, who presents a chilling story of the world's end, and Douglas Texter, whose vision of reality television's future features time-traveling lensmen sent to capture historic events. Also included are essays by Hubbard and artist Judith Miller, and illustrations from a number of different artists, a mixed collection marked by occasional brilliance. While readers will relish these short pieces, many of the ideas explored in them would likely work well in a longer format, auguring well for the future of these talented up-and-comers. (Sept.) - Publishers Weekly 
Galaxy Press (CA), 9781592123988, 529pp.
Publication Date: September 17, 2007
About the Author
With nineteen "New York Times" bestsellers and more than 230,000,000 copies of his works in circulation, L. Ron Hubbard is among the most acclaimed and widely read authors of our time. As a leading light of American pulp fiction through the 1930s and '40s, he is further among the most influential authors of the modern age.
or
Not Currently Available for Direct Purchase