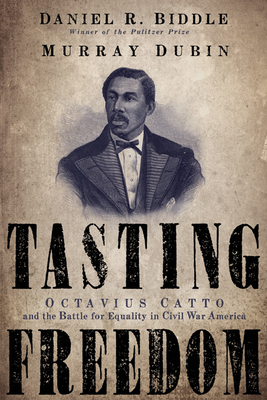 Tasting Freedom: Octavius Catto and the Battle for Equality in Civil War America (Hardcover)
Octavius Catto and the Battle for Equality in Civil War America
Temple University Press, 9781592134656, 616pp.
Publication Date: August 13, 2010
* Individual store prices may vary.
or
Not Currently Available for Direct Purchase
Description
Dubin and Pulitzer Prize-winner Biddle painstakingly chronicle the life of the charismatic black leader Octavius Catto and present little-known stories of him and the men and women who struggled to change America.
Praise For Tasting Freedom: Octavius Catto and the Battle for Equality in Civil War America…
"Daniel Biddle and Murray Dubin have brought to life a leader of the Civil War-era struggle against slavery and for equal rights for blacks. This dramatic book not only rescues the intrepid Octavius Catto from obscurity but reminds us that this struggle—and the violent opposition to it—long predated the modern civil rights era."—Eric Foner, DeWitt Clinton Professor of History, Columbia University
"[A] marvelous historical feast for lovers of Afro-American, Philadelphia, and American history alike.... The book's particular magic is that it shows how real people, black and white, rich and poor, were tossed about in the historical currents that flowed through Philadelphia.... One would have to search far and wide to find a better-researched and more compellingly readable biography." 

—The Philadelphia Inquirer
"This is a great story and a compelling history of the original civil rights movement—with its own Dr. King. In Tasting Freedom, Biddle and Dubin bring to light a hero whose footprints helped lead America through the challenges of racial injustice: Octavius Catto. The story is both riveting and elucidative"
—Juan Williams, author of Eyes on the Prize and Thurgood Marshall
"Tasting Freedom is masterfully researched and cogently written. Biddle and Dubin transport us to yesteryear, profiling some of the central figures of the Civil War era and revealing the birth and rise of the black intelligentsia in this country. Tasting Freedom is a valuable triumph—and a work of importance."
—Elijah Anderson, Yale University
"Tasting Freedom is required reading for anyone who thinks the civil rights movement started in the 1950s, with Martin Luther King Jr. and Rosa Parks (hint: you're off by a full century). This is a revelation for those of us who grew up being fed morality tales about righteous Northern free staters standing against Southern slaveholders (hint: neither offered real freedom). Biddle and Dubin's book is for all of us who love a story about baseball and war, about race and the making of America."
—Larry Tye, author of Satchel: The Life and Times of an American Legend
"If you fancy knowing about growing up black in mid-nineteenth-century Philadelphia, there is no better place to start than with Biddle and Dubin's powerful and poignant biography of Octavius V. Catto. For those who believe that post–Civil War Reconstruction was only a Southern affair, this book is an eye-opener."
—Gary B. Nash, Director of the National Center for History in the Schools, UCLA, and author of The Liberty Bell
"An entrancing portrait of a leading Renaissance man for equal rights. . . . Nothing matches it at the moment as a prequel to Thomas J. Sugrue's much-noted Sweet Land of Liberty."
—Library Journal
"This rich biography...restores Catto to his important place in the pantheon of civil rights heroes."
—ForeWord
Coverage from NPR
Advertisement