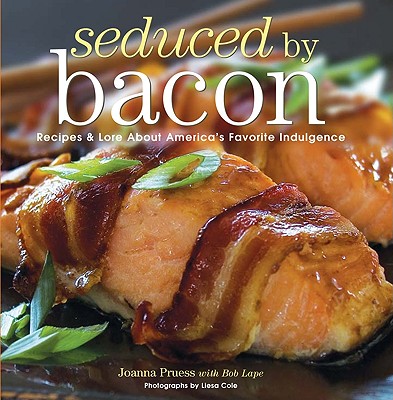 Seduced by Bacon: Recipes & Lore about America's Favorite Indulgence (Hardcover)
Recipes & Lore about America's Favorite Indulgence
Lyons Press, 9781592288519, 192pp.
Publication Date: October 1, 2006
* Individual store prices may vary.
or
Not Currently Available for Direct Purchase
Description
Our love affair with bacon is passionate and enduring.
Even its smell can transport us back to comforting times, and it has a taste like no other. Bacon evokes memories of caramel, wood fires, and mouth-watering home-cooked meals. Oh, those delectably succulent, salty, crunchy morsels!
Almost every dish can be made better with bacon. Not only does it flatter savories, it's an admirable complement to sweets as well. Seduced by Bacon offers sensuous dishes for breakfast, lunch, dinner, dessert, and any time in between. Entice your guests with Pecan Waffles smothered in a Caramel-Bacon Sauce, arouse all your senses with an Open-Faced Cheddar & Turkey Bacon Sandwich with Beer-Glazed Onions, and finally, bewitch your taste buds with a French Apple Tart with Cheddar Cheese Crust & Sweet Brittle Topping.
Every cook and connoisseur--in fact, anyone who eats--will savor the delectable recipes, tantalizing photographs, and fascinating bits of "baconry" in this fresh and innovative cookbook.


About the Author
Joanna Pruess has written for the food column of "The New York Times Magazine," "Food & Wine," "Food Arts," "Saveur," and "The Washington Post," and was a regular contributor to the AP syndicate. She develops recipes for specialty food manufacturers in the U.S. and France. She lives in the Bronx, NY, with her husband, Bob Lape, WCBS and "Crain's New York "restaurant critic.
Praise For Seduced by Bacon: Recipes & Lore about America's Favorite Indulgence…
"What a misguided few might still regard as a guilty pleasure, Joanna Pruess has ennobled with a panache usually reserved for foie gras, caviar, and truffles, to which we can now joyously add, BACON!"--John Mariani, food and travel columnist, Esquire magazine

"I have always considered pork to be an extremely versatile meat, but Joanna Pruess's brilliant book has inspired a myriad of ideas! She has explored and exposed the wonders of bacon, and her approach to cuisine is nothing short of imaginative and entertaining!"--Charlie Trotter "Wake up and smell the bacon! Joanna Pruess has done it again with an irresistible compendium of innovative and delicious bacon recipes. Pigs of the world, be proud!"
-Faith Middleton, The Food Schmooze, WNPR 
"If one is to be compromised, one of the better ways is to be Seduced by Bacon . . . an alluring prospect."—Publisher's Weekly (online cookbook listing)
"Charmingly exuberant."—John Mariani's Virtual Gourmet Newsletter
Advertisement