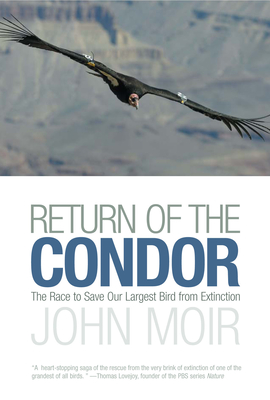 Return of the Condor (Hardcover)
The Race to Save Our Largest Bird from Extinction
Lyons Press, 9781592289493, 272pp.
Publication Date: October 1, 2006
* Individual store prices may vary.
Description
Return of the Condor is far and away the best book on the subject. John Moir covered the condor recovery effort for magazines and newspapers for years and his extensive and award-winning journalism, including an investigative piece for Birding magazine, became this fine book. Moir presents a unique insider's view of the remarkable tale of saving a species from the brink of extinction. Down to a population of only twenty-two in the 1980s, the condor owes its survival and recovery to a team of scientists who flouted conventional wisdom and pursued the most controversial means to save it. John Moir's account shows the depth of their passion and courage and details the bitter controversy that led to a national debate over how to save America's largest bird.
About the Author
John Moir is a naturalist and science educator, and his articles have appeared in the San Francisco Chronicle, The San Francisco Examiner, the San Jose Mercury News, and The Sacramento Bee, among others.
Praise For Return of the Condor: The Race to Save Our Largest Bird from Extinction…
"Audubon himself would be delighted to read John Moir's exciting and authoritative account of the difficult, politically fraught but ultimately rewarding effort to save the largest of all the living birds, a great shadow in the sky above the Western range. I certainly was."--Richard Rhodes, winner of the Pulitzer Prize and author of John James Audubon: The Making of an American

"By the 1980s, the California condor was well on its way to extinction. The saga of this magnificent bird, which had soared above the North American continent at a time when mastodons and saber-toothed cats still roamed the Earth, seemed to be nearing the end. The only thing standing in the way of this grim fate was the dedication of a small group of researchers and naturalists, committed to saving the condor. With eloquence and insight, John Moir chronicles the effort to save this spectacular bird. His book is a remarkable testament to what a few dedicated individuals can accomplish."--Tim Gallagher, Director of Publications, Cornell Laboratory of Ornithology

"Return of the Condor is an account of cutting-edge conservation biology, but it is also an eminently human story. John Moir's focus is on the problematic intersection between science and scientists, between bird lovers and the great bird itself. The subject mattercomplex and controversial, ultimately heartwarmingdemands a skilled and sympathetic writer, and Moir's chronicle is thoroughly successful in this regard."--Ted Floyd, editor of Birding Magazine, American Birding Association

"John Moir's dramatic account of bringing the condor back from the brink of extinction is a reminder of the fragility of life on our planet and of the capacity of one species, humans, to protect or extinguish all others. Return of the Condor is a powerful tribute to the scientists, politicians, hunters, environmentalists, and concerned citizens who ultimately found a way to work together to ensure the survival of one of the most remarkable species on Earth."--Mark Schaefer, CEO, Global Environment and Technology Foundation, Former president of NatureServe

"A heart-stopping saga of the rescue from the very brink of extinction of one of the grandest of all birds. Starting with page one, I was captured by Return of the Condor. America is the richer for the success of those who fought against all odds . . . and this tale is one all should read."--Thomas Lovejoy, President, The Heinz Center for Science, Economics and the Environment, Founder of the PBS series Nature

"Pulling the California condor back from the brink of extinction has been difficult, and expensive. But this fine book by John Moir makes abundantly clear why preserving magnificent beings like our once-more wild condors is one of 21st century society's more important obligations."--Alan Tennant, author of On The Wing: To The Edge Of The Earth With The Peregrine Falcon

"John Moir has written an uplifting and well-researched tale that takes us on the condor's roller-coaster ride to recovery. Equally exhilarating and
heart-breaking, this important story brings complex issues into clear focus and lets us understandwith both heart and mindwhy we need to save this intelligent and majestic bird."--Maria Mudd Ruth, author of Rare Bird: Pursuing the Mystery of the Marbled Murrelet
Moir deftly chronicles the efforts of the dedicated biologistswho work to save the California condor from extinction."-- Publishers Weekly



"The passenger pigeon and Carolina parakeet are gone forever, victims of ignorance and exploitation. John Moir eloquently describes the inspired effort to save the condor from the same fate. It is a compelling story that reminds us that human ingenuity and perseverance can ensure the survival of a specieswhen we recognize and value the diversity of life on Earth."--Mark Schaefer, CEO, Global Environment and Technology Foundation, Former president of NatureServe
or
Not Currently Available for Direct Purchase