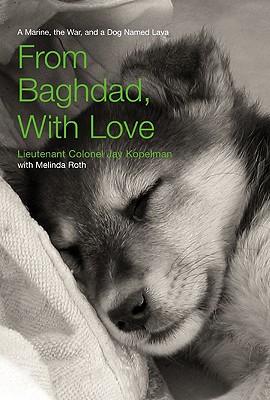 From Baghdad, with Love: A Marine, the War, and a Dog Named Lava (Hardcover)
A Marine, the War, and a Dog Named Lava
Lyons Press, 9781592289806, 196pp.
Publication Date: October 1, 2006
* Individual store prices may vary.
or
Not Currently Available for Direct Purchase
Description
When Marines enter an abandoned house in Fallujah, Iraq, and hear a suspicious noise, they clench their weapons, edge around the corner, and prepare to open fire.
What they find during the U.S -led attack on the "most dangerous city on Earth," however, is not an insurgent bent on revenge, but a tiny puppy left behind when most of the city's population fled before the bombing. Despite military law that forbids the keeping of pets, the Marines de-flea the pup with kerosene, de-worm him with chewing tobacco, and fill him up on Meals Ready to Eat.
Thus begins the dramatic rescue attempt of a dog named Lava and Lava's rescue of at least one Marine, Lieutenant Colonel Jay Kopelman, from the emotional ravages of war.
From hardened Marines to war-time journalists to endangered Iraqi citizens, From Baghdad, With Love tells an unforgettable true story of an unlikely band of heroes who learn unexpected lessons about life, death, and war from a mangy little flea-ridden refugee.

About the Author
Jay Kopelman is a former lieutenant colonel in the U.S. Marine Corps; he was last stationed at Camp Pendleton, California. A competitive bicyclist, Jay lives in La Jolla, California, with his wife, Pam Godde, stepson, their two dogs, Lava and Koda, and Cheddar the cat. Both Jay and his wife, an anthropologist, are avid surfers. They're expecting their second child in January 2007. Melinda Roth works for a political lobbyist in Chicago, where she lives with her family.
Praise For From Baghdad, with Love: A Marine, the War, and a Dog Named Lava…
 "With humor and heart, Kopelman relates how, in the midst of battle in Fallujah, Iraq, his Marine battalion -- the "Lava Dogs" -- saves a starving mutt. Armed with the fighting spirit of the Marines who adopt him, spunky Lava supplies unconditional love, morale boosts, and a great read."--New York Post

Sure to please dog-lovers." - Kirkus Reviews

More than a canine escape tale, this is also the story of how Lava changed Kopelman and affected his feelings about the war."--San Diego Magazine

 One of a handful of heartwarming tales to emerge from the war in Iraq."--USA Today

[The Marines] were offered a small, furry ray of hope when they stumbled upon a five-week-old pup that was left behind after the battle of Fallujah. A war memoir with a twist, From Baghdad with Love is the tender story of how a dog named Lava captured the hearts of a bunch of war-hardened Marines and how they banded together to bring him home to America."--Pages (San Diego)
 The book deals honestly with the hard question asked by many people about why so much time, energy and money was spent on a dog when there are so many people in need. A fascinating look at the day-to-day life of soldiers fighting for their country, who discover a little bit of hope and love in a dismal time and place."
--Readerviews.com "The story of how Kopelman got this puppy out of Iraq was so different from anything I have read anywhere about the war in Iraq that I was on the edge of my seat from start to finish." --Bookslut.com "Love and hope often arrive in the strangest places and in the strangest ways."--Forbes.com
 "Jarhead with animals."--Palm Beach Post.com You will laugh, smile, cry, and want to keep turning the page."
--BookPleasures.com "Kopelman orchestrated a real-life canine escape from Iraq worthy of any thriller novel." --Petwarmers "What happens next makes for an incredible tale that, say our sources, you can't put down until the last page." ASPCA newsletter 

 
Advertisement