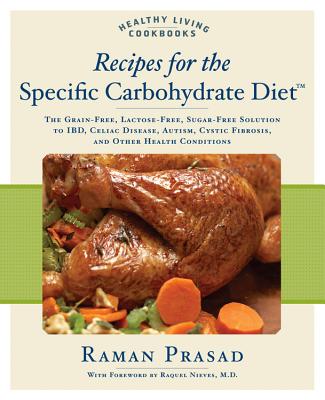 Recipes for the Specific Carbohydrate Diet (Paperback)
The Grain-Free, Lactose-Free, Sugar-Free Solution to IBD, Celiac Disease, Autism, Cystic Fibrosis, and Other Health Conditions (Healthy Living Cookbooks)
Fair Winds Press, 9781592332823, 224pp.
Publication Date: February 1, 2008
* Individual store prices may vary.
Description
The Specific Carbohydrate Diet (SCD) is a strict grain-free, lactose-free, and sucrose-free dietary regimen intended for those suffering from Crohn's disease and ulcerative colitis (both forms of IBD), celiac disease, IBS, cystic fibrosis, and autism. For those suffering from gastrointestinal illnesses, this book offers a method for easing symptoms and pain, and ultimately regaining health. Recipes for the Specific Carbohydrate Diet(TM) includes a diverse and delicious collection of 150 SCD-friendly recipes and more than 80 dairy-free recipes. The easy-to-make and culturally diverse recipes featured in the book include breakfast dishes, appetizers, main dishes, and desserts, such as Hazelnut-Vanilla Pancakes, Olive Sandwich Bread, Chicken Satay, Roasted Bass with Parsley Butter, Thin Crust Pizza, Gretel's Gingerbread Cookies, and Mango Ice Cream. Full-color photos will inspire you to get cooking again. In addition, personal anecdotes accompany each section of this book. Find out more at www.scdrecipe.com/cookbook/.
About the Author
Raman Prasad has followed the Specific Carbohydrate Diet (SCD)™ successfully for more than 16 years, which has resulted in a return to good health and a normal life. In 1998, inspired by his recovery and remission from ulcerative colitis, Prasad founded scdrecipe.com which includes hundreds of SCD recipes and other relevant information about this dietary protocol. He is the author of Recipes for the Specific Carbohydrate Diet, The SCD for Autism and ADHD, Colitis & Me: A Story of Recovery, and Adventures in the Family Kitchen. Raman has been an advocate and spokesperson for the diet for almost two decades, and has worked alongside Elaine Gottschall in her efforts to promote the SCD to a wider audience. 
Praise For Recipes for the Specific Carbohydrate Diet: The Grain-Free, Lactose-Free, Sugar-Free Solution to IBD, Celiac Disease, Autism, Cystic Fibrosis, and Other Health Conditions (Healthy Living Cookbooks)…
"People following a restrictive diet often lament the loss of foods and flavors they love. Raman Prasad's subtle modifications of delicious recipes from around the globe bring international flavor and zest to your home's SCD kitchen. There is no passport required for this delicious quest for a healthy gut!"
--Mike Simons, Co-webmaster, www.scdiet.org
"This clever book is not just a great supplement to the Specific Carbohydrate Diet, making dieting into a pleasure, but will also ensure the whole family enjoys a healthy, varied, and yummy diet. I feel lucky to have it in my kitchen."
--Mik Aidt, Founder and co-webmaster, www.scdiet.org
"Raman Prasad shares his personal experience in this comprehensive cookbook. It is a wonderful contribution and tribute to Elaine Gottschall and it will be an invaluable resource for those suffering with gastrointestinal issues. He provides a comprehensive overview of the science behind the diet, menus, holiday traditions, and gourmet recipes. This book will give families the confidence they need to heal."
--Pam Ferro, R.N., Founder of The Gottschall Autism Center