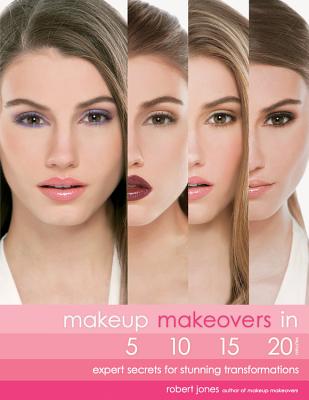 Makeup Makeovers in 5, 10, 15, and 20 Minutes (Paperback)
Expert Secrets for Stunning Transformations
Fair Winds Press, 9781592333714, 320pp.
Publication Date: January 1, 2012
* Individual store prices may vary.
Description
Create timeless looks that will give you confidence and make you radiant with internationally-renowned makeup artist Robert Jones in Makeup Makeovers in 5, 10, 15, and 20 Minutes. This step-by-step guide to realistic, everyday makeup for the woman on the go contains makeup techniques for every occasion, starting with the five-minute morning-makeup for work, more refined style for important meetings that can be done in the office, quick and stylish looks for after-work drinks, hot and sassy styles for when readers are late for their dates, and even elegant evening styles for women who have the time but not the energy or need to spend hours on their look. Top-of-the-field makeup artist Robert Jones shows you which tools to use, how to conceal blemishes, and how to emphasize certain features, such as eyes and lips. You'll discover how to quickly and efficiently transform your appearance in stunning and remarkable ways, no matter what the occasion and in an incredibly short amount of time.
About the Author
Robert Jones did not necessarily start out on this career path. Robert showed promise as an artist as early as age 6 and was pushed, or maybe we should say, encouraged to pursue painting and drawing. He competed and won a scholarship to study at a prestigious art school at age 11. After seven long years of intense art training he wanted more and decided to get more. From there he attended a performing arts high school where he majored in theatre. It is there he first dabbled in makeup, applying painting principles to the face. Growing with three sisters he always had the opportunity to prove he was naturally gifted at working with hair. He was also able to put that talent to use in school performances. Upon graduating, his advisors expressed their belief that he should pursue his natural gifts. From there he attended school and worked to get his license to do hair.After a number of years in a salon, he once again wanted more. With his life motto "just jump and figure out how to make it work later," he got the opportunity to work with new models at an agency. From there one thing lead to another and the rest is history. Now with more than 20 something years in the beauty industry he has traveled the world working with so many amazing people.His work has appeared in countless magazines such as Allure, Vogue, Marie Claire, InStyle, Shape, Life and Style, Glamour, Brides Magazine, and Elle. He has worked with celebrities such as Cindy Crawford, Claire Danes, Selena Gomez, Eve Best, Sheryl Crow, Laura Linney, Natascha McElhone, Delta Burke, Diahann Carroll and many others. He has worked with beauty clients such as Mary Kay, Almay, Olay, Avon, Nexxus, Clinique, Chanel, Prescriptive and Christian Dior, as well as fashion clients such as Neiman Marcus, Bergdorf Goodman, Saks Fifth Avenue and Bloomingdales just to name a few.He has a signature line of brushes and beauty tools available online at http://www.robertjonesbeauty.com and will be in stores soon. Robert also has an online makeup academy that can help anyone become the makeup expert that he or she wishes to be at http://www.robertjonesbeautyacademy.com. He is a bestselling author of five books, including Makeup Makeovers; Makeup Makeovers: Weddings; Looking Younger; Makeup Makeovers: Beauty Bible; and Makeup Makeovers in 5,10,15,20 Minutes.Robert has lived in Europe and New York, but now has chosen to be back in Texas, with his other half Chip and fur baby Gigi, as much as possible, especially since work keeps him in the travel mode constantly.