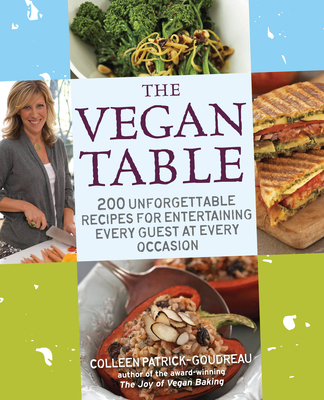 The Vegan Table (Paperback)
200 Unforgettable Recipes for Entertaining Every Guest at Every Occasion
Fair Winds Press, 9781592333745, 304pp.
Publication Date: June 1, 2009
* Individual store prices may vary.
Description
"The Vegan Table leaves nothing to be desired—Colleen Patrick-Goudreau is the Martha Stewart of the movement!"—Rory Freedman, author of the #1 New York Times bestseller Skinny Bitch
"It's delightful, it's delicious, it's a de-lovely book!"—Sarah Kramer, author of How It All Vegan (GoVegan.net)
"Within minutes of reading The Vegan Table, I was in my kitchen making one of Colleen's favorite recipes. My wife was amazed. This is a wonderful book that you will want to give to all your vegan and non-vegan friends!"—Jeffrey Moussaieff Masson, bestselling author of When Elephants Weep and The Face on Your Plate: The Truth About Food
Entertain in Style—Vegan Style
The Vegan Table is your one-stop source for creating the perfect meal for your friends and family. Whether you're hosting an intimate gathering of friends or a large party with an open guest list, author Colleen Patrick-Goudreau, crowned the "Vegan Martha Stewart" by VegNews magazine, will answer your every entertaining need.
Inside you'll be treated to practically limitless recipe and menu ideas, making it easy to satisfy any and all palates and preferences. From romantic meals for two to formal dinners, casual gatherings, children's parties, and holiday feasts, you can keep the party going through every occasion and season.
Recipes include:
—Pumpkin Curry
—Roasted Red Pepper, Artichoke, and Pesto Sandwiches
—Creamy Macaroni and Cashew Cheese
—Elegantly Simple Stuffed Bell Peppers
—Pasta Primavera with Fresh Veggies and Herbs
—Tempeh and Eggplant Pot Pies
—African Sweet Potato and Peanut Stew
—Roasted Brussels Sprouts with Apples and Onions
—Spring Rolls with Peanut Dipping Sauce
—South of the Border Pizza
—Tofu Spinach Lasagna
—Blackberry Pecan Crisp
—Flourless Chocolate Tart
—Red Velvet Cake with Buttercream Frosting
Celebrate the joy of plant-based cuisine with The Vegan Table, your ultimate at-home dining and entertaining guide.
About the Author
A recognized expert and thought leader on the culinary, social, ethical, and practical aspects of living vegan, Colleen Patrick-Goudreau is an award-winning author of seven books, including the bestselling The Joy of Vegan Baking, The Vegan Table, Color Me Vegan, Vegan's Daily Companion, On Being Vegan, and The 30-Day Vegan Challenge. She is an acclaimed speaker and beloved host of the inspiring podcast "Food for Thought," which was voted Favorite Podcast by VegNews magazine readers.
Colleen has appeared on national and regional TV programs--including the Food Network, CBS, PBS, and FOX. Interviews with her have been featured on NPR, Huffington Post, U.S. News and World Report, The Chicago Tribune, The Miami Times, Pacifica Radio, and Rodale News--and in countless publications, blogs, and podcasts.
Her recipes have been featured on Epicurious.com and Oprah.com, and she is a featured guest on Delicious TV's Vegan Mashup, a program that recently aired on public television in 41 states. Colleen is a regular contributor to Perspectives on KQED, NPR's San Francisco affiliate, which reaches 830,000 listeners weekly.
Praise For The Vegan Table: 200 Unforgettable Recipes for Entertaining Every Guest at Every Occasion…
"Colleen Patrick-Goudreau has done a great service to the vegan community with her books The Joy of Vegan Baking and now The Vegan Table. The decadent recipes and colorful photographs in her books show the world how sublime veganism can be!"
—Jennifer McCann, author of Vegan Lunch Box and
Vegan Lunch Box Around the World
"The doyenne of compassionate living has done it again, delivering a beautiful, thoughtful, intelligent book brimming with delectable, cruelty-free recipes and clever entertaining ideas. Colleen Patrick-Goudreau truly is a star in the vegetarian universe."
—VegNews Magazine
"The Vegan Table leaves nothing to be desired—Colleen Patrick-Goudreau is the Martha Stewart of the movement!"
—Rory Freedman, author of #1 New York Times bestseller Skinny Bitch