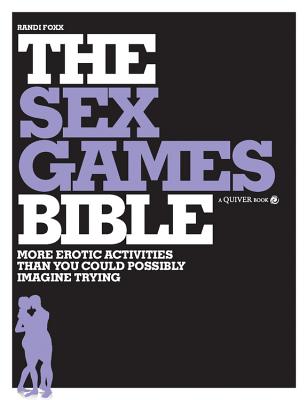 Sex Games Bible (Paperback)
More Erotic Activities Than You Could Possibly Imagine Trying
Quiver, 9781592333936, 416pp.
Publication Date: June 1, 2009
* Individual store prices may vary.
Description
The Sex Games Bible is the antidote to bedroom boredom. The book will feature photography from at least five previous Quiver books, giving the reader the sense that this is the most comprehensive sex games book out there, and the only one they need on their shelf. The Sex Games Bible will revive a couple's sex life again—or add to a single's sex arsenal—providing readers with 100 ideas and games that they either: 1) never thought of before, or 2) thought of, but were too embarrassed or shy to mention to their partner. Each game is fun and playful and provides you with clear, uncomplicated directions and ideas.
About the Author
Although Randi Foxx was born in the United States, she spent many years living in India. When she was eighteen, she traveled to the temples at Khajuraho, where intricate carvings illustrate explicit sexual activity. This trip led to a sexual awakening for Randi. Since then, she has dedicated her life to transforming these sacred sexual depictions into works of human art. Schooled in the ancient tantric text the Kama Sutra, Randi now travels the world, conducting symposiums on sexuality and the human body. She resides in New York City.
or
Not Currently Available for Direct Purchase