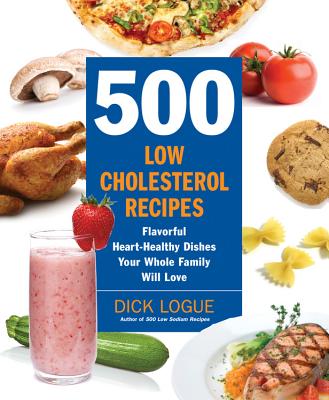 500 Low-Cholesterol Recipes (Paperback)
Flavorful Heart-Healthy Dishes Your Whole Family Will Love
Fair Winds Press, 9781592333967, 512pp.
Publication Date: August 1, 2009
* Individual store prices may vary.
Description
A low-cholesterol cookbook that offers practically the full spectrum offlavors for the tastebuds! 500 Low-Cholesterol Recipes proves that cutting cholesterol doesn't mean cutting taste or variety—or spending hours in the kitchen on complicated recipes. Packed with everything from savory stews to sweet treats, you'll find low-cholesterol versions of all the foods you thought you had to give up, like mouthwatering burgers, fluffy omelets, and creamy desserts. You'll also find a wide array of international cuisines, from Cajun and Mexican to Italian and Asian. Make staying on the low-cholesterol course easy—and delicious!—with 500 Low-Cholesterol Recipes.
About the Author
Dick Logue is the author of several diet-friendly cookbooks and has been following a heart-healthy lifestyle for decades now. After being diagnosed with congestive heart failure more than 20 years ago, Dick threw himself into the process of creating healthy versions of his favorite recipes and writing about it on his website, Low Sodium Cooking. A cook since the age of 12, he grows his own vegetables, bakes his own bread, and cans a variety of foods. He is the author of 500 Low Sodium Recipes, 500 Low-Cholesterol Recipes, 500 High Fiber Recipes, 500 Low Glycemic Index Recipes, 500 Heart-Healthy Slow Cooker Recipes, 500 400-Calorie Recipes, and 500 15-Minute Low Sodium Recipes, among others. He lives in La Plata, MD.