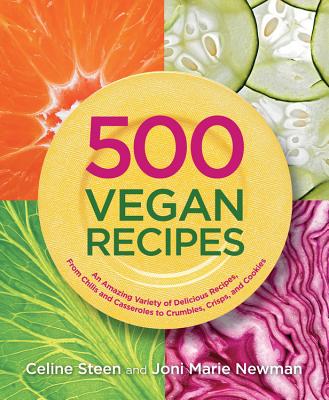 500 Vegan Recipes (Paperback)
An Amazing Variety of Delicious Recipes, from Chilis and Casseroles to Crumbles, Crisps, and Cookies
Fair Winds Press (MA), 9781592334032, 512pp.
Publication Date: November 1, 2009
* Individual store prices may vary.
Description
Flavorful Recipes to Suit Your Every Taste and Craving Looking for more variety in your vegan cooking? Maybe a new type of muffin to make? Or perhaps a pasta or savory pie that's "just a little different," but full of flavor and taste?
500 Vegan Recipes
gives you the array of dishes you've been searching for, while still including all your favorite comfort foods and traditional fare. It's everything you've been looking for in a cookbook, and will be a staple reference in your kitchen for years to come. Vegans and non-vegans alike can satisfy their every craving with the recipes inside, which feature international cuisines such as Indian and Cajun, as well as hearty main courses, sinful desserts, and comforting soups and breads. Individual recipes are also marked with such distinctions as Soy Free, Gluten Free, Low Fat, and Under 30 Minutes. Recipes include:
Peanut Butter and Chips Granola
Wheat Germ Raisin Pancakes
Banana, Peanut, and Oat Breakfast Biscuits
Blooming Onion Rolls
Greek Phyllo Samosas
Sesame-Bean Spread
Edamame Caviar
Rustic Tempeh-Spinach Pie
Cranberry Chili
Sweet Potato, Roasted Red Pepper and Corn Bisque
Pumpkin Spinach Ravioli
Mexican Shepherd's Pie
Apple Curry Fauxsage
Roasted Caramel Nut Tartlets
Cherry Almond Cookies
Gluten-Free Fudge Brownies
With 500 Vegan Recipes, eating healthfully has never been easier--or more kind
About the Author
Celine Steen is the co-author of 500 Vegan Recipes, The Complete Guide to Vegan Food Substitutions, Hearty Vegan Meals, Vegan Sandwiches Save the Day!, Whole Grain Vegan Baking, The Great Vegan Protein Book, and the upcoming The Great Vegan Grains Book. She is the founder of the award-winning blog Have Cake, Will Travel (www.havecakewilltravel.com).Joni Marie Newman is the author of _
Praise For 500 Vegan Recipes: An Amazing Variety of Delicious Recipes, from Chilis and Casseroles to Crumbles, Crisps, and Cookies…
"The collaborative effort of two established bloggers, 500 Vegan Recipes provides curious chefs with an impressive range of recipes, from classic to contemporary. Celine Steen, creator of the popular blog 'Have Cake Will Travel,' teams up with seasoned cookbook author, blogger ('Just the Food'), and colleague Joni Marie Newman to deliver everything from hearty breakfasts to every type of savory entrée imaginable. The quickest of flips through the 500-page guide will have you salivating with tempting titles that turn run-of-the-mill dishes into a memorable affair, such as Pumpkin Tofu Scramble and Peanut Brittle Cookies. Helpful icons indicate gluten- and soy-free dishes, low-fat recipes, and recipes for time-crunched cooks. With a spacious layout and 20 well-organized chapters, 500 is easy to navigate—the difficulty lies in choosing a recipe. … A successful first venture for the duo, it certainly won't be the last." —VegNews Magazine
Steen, Celine & Joni Marie Newman. 500 Vegan Recipes: An Amazing Variety of Delicious Recipes, from Chilis and Casseroles to Crumbles, Crisps, and Cookies. Fair Winds: Quayside. 2009. 512p. index. ISBN 978-1-59233-403-2. pap. $19.99. COOKING
Bloggers Steen and Newman (Cozy Inside: Delicious & Comforting Cruelty Free Recipes) open with reasons to become vegan—your health, the environment, and your pocketbook—and a list of animal-derived ingredients (e.g., casein, lactose, and whey) useful for new vegans. Icons denote 30-minute, low-fat, gluten-free, and soy-free recipes. A helpful list of "new-to-you" ingredients, like nondairy butter, nutritional yeast, and nut butters, accompanies the simple instructions, which include ingredient measurements in both metric and standard. A good source for the starter vegan. - Library Journal, March 15, 2010

or
Not Currently Available for Direct Purchase