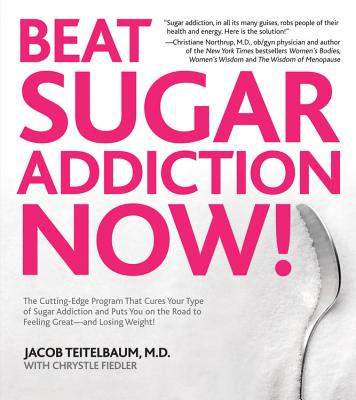 Beat Sugar Addiction Now!
The Cutting-Edge Program That Cures Your Type of Sugar Addiction and Puts You on the Road to Feeling Great - and Losing Weight!
Paperback

* Individual store prices may vary.
Other Editions of This Title:
Paperback (5/15/2015)
Paperback (8/1/2012)
Description
Normal0MicrosoftInternetExplorer4
The No-Fail Plan to Beating Sugar Addiction!
With one-third of our calories coming from sugar and white flour added to processed foods, sugar addiction is a rapidly growing epidemic. However, unlike other addictions, going "cold turkey" won't fix it. In this groundbreaking book, nationally recognized physician Dr. Jacob Teitelbaum uncovers four types of sugar addiction and gives a step-by-step plan for resolving their underlying causes, breaking sugar cravings forever, and achieving dramatically improved health and energy levels—while also making it easier to lose weight!
Praise For Beat Sugar Addiction Now!: The Cutting-Edge Program That Cures Your Type of Sugar Addiction and Puts You on the Road to Feeling Great - and Losing Weight!…
"Sugar addiction in all its many guises robs people of their health and energy. Here is the solution!" — Christiane Northrup, M.D., ob/gyn physician and author of the New York Times bestsellers: Women's Bodies, Women's Wisdom and The Wisdom of Menopause
"This is the best book I've read on this rapidly growing epidemic. Beat Sugar Addiction Now! explains how to diagnose your blood sugar issues, and then gives detailed instructions to overcome them and restore good health." — Hyla Cass M.D., author of 8 Weeks to Vibrant Health
Beat Sugar Addiction Now! is a well-thought-out formula for understanding and overcoming sugar addiction. It is packed with information that will give you a successful formula for reclaiming your health." — Hal Blatman, M.D., President, American Holistic Medical Association, and author, Guide to Pain Relief
Fair Winds Press, 9781592334155, 256pp.
Publication Date: March 1, 2010
About the Author
Jacob Teitelbaum, MD, is an Internal Medicine specialist who has treated sugar-related issues, including chronic fatigue and pain, for over 30 years. He is the Founder and Director of the Practitioners Alliance Network (PAN) and author of the free iPhone application "Cures A-Z."
Teitelbaum is senior author of the landmark studies "Effective Treatment of Chronic Fatigue Syndrome and Fibromyalgia - a Placebo-controlled Study" and "Effective Treatment of CFS & Fibromyalgia with D-Ribose," and author of the best-selling book From Fatigued to Fantastic! (3rd revised edition, Avery/Penguin Group) and Pain Free 1-2-3€"A Proven Program for Eliminating Chronic Pain Now (McGraw- Hill). He does frequent media appearances including Good Morning America, CNN, Fox News Channel, The Dr. Oz Show, and Oprah & Friends with Dr. Mehmet Oz. He lives in Kona, Hawaii. His website is www.vitality101.com.
Chrystle Fiedler is the author of over a hundred articles on health topics for many national publications including Woman's Day, Better Homes & Gardens, Prevention, Natural Health, Arthritis Today, Remedy, Medizine's Health Living, Spirituality & Health, The Health Monitor Network, Great Health, Vegetarian Times, Bottom Line/Women's Health, Heart Healthy Living and Health magazine.