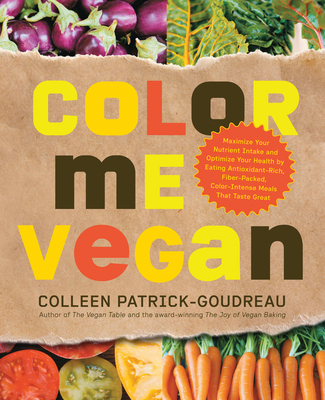 Color Me Vegan
Maximize Your Nutrient Intake and Optimize Your Health by Eating Antioxidant-Rich, Fiber-Packed, Color-Intense Meals That Taste Great
Paperback

* Individual store prices may vary.
Description
"With Color Me Vegan, Colleen Patrick-Goudreau takes veganism to a whole new level. This is exactly what people need to eat more compassionately, experience superior health, and enjoy out-of-this-world flavors. Get ready to taste the real rainbow!"—Rory Freedman, author of the #1 New York Times bestseller Skinny Bitch
"In Color Me Vegan, Colleen Patrick-Goudreau makes assembling balanced meals as easy as painting by numbers. With the publication of her third book, Patrick-Goudreau remains one of the most endearing and innovative vegan chefs."—Bryant Terry, author of Vegan Soul Kitchen
"Taking 'nutrient-dense' to a whole new level, Color Me Vegan provides a mouthwatering palette of simple but delectable recipes. We should make a point to eat the rainbow, and this book is the pot of gold at the end that is sure to brighten any diet!"—Dr. Michael Greger, Director of Public Health at the Humane Society of the United States
Eat by color for more flavorful meals and extraordinary health!
In Color Me Vegan, author and vegan extraordinaire Colleen Patrick-Goudreau brings an edible rainbow of plant-based cuisine to your kitchen table with 150 flavorful recipes designed to boost your health and perk up your palate.
With color as the guiding principle behind each section, Colleen shows vegetarians, vegans, and everyone in between exactly how phytonutrients—the most powerful, pigmented antioxidants on earth, found in everything from select fruits and vegetables, to grains, legumes, nuts, and seeds—can be expertly incorporated into your meals for the greatest nutritional punch.
From the "Color Me Blue" chapter, for example, you'll be treated to recipes such as:
—Radicchio Fennel Salad with Caper Dressing
—Chilled Blueberry Mango Soup
—Lavender-Roasted Purple Onions
—Eggplant with Dengaku (Sweet Miso) Sauce
—Purple Plum Pie with Crumble Topping
From sensational starters and salads, to filling mains and sides, to crave-worthy desserts—in every color—each recipe is not just a feast for your stomach, but a feast for your eyes as well! Check out more about the book at http://www.colormevegan.com.
Fair Winds Press, 9781592334391, 272pp.
Publication Date: November 1, 2010
About the Author
A recognized expert and thought leader on the culinary, social, ethical, and practical aspects of living vegan, Colleen Patrick-Goudreau is an award-winning author of seven books, including the best-selling The Joy of Vegan Baking, The Vegan Table, Color Me Vegan, Vegan's Daily Companion, On Being Vegan, and The 30-Day Vegan Challenge. She is an acclaimed speaker and beloved host of the inspiring podcast "Food for Thought," which was voted Favorite Podcast by VegNews magazine readers.
Colleen has appeared on national and regional TV programs—including the Food Network, CBS, PBS, and FOX. Interviews with her have been featured on NPR, Huffington Post, U.S. News and World Report, The Chicago Tribune, The Miami Times, Pacifica Radio, and Rodale News—and in countless publications, blogs, and podcasts.
Her recipes have been featured on Epicurious.com and Oprah.com, and she is a featured guest on Delicious TV's Vegan Mashup, a program that recently aired on public television in 41 states. Colleen is a regular contributor to Perspectives on KQED, NPR's San Francisco affiliate, which reaches 830,000 listeners weekly.
or
Not Currently Available for Direct Purchase