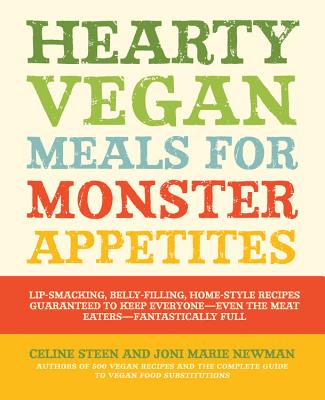 Hearty Vegan Meals for Monster Appetites (Paperback)
Lip-Smacking, Belly-Filling, Home-Style Recipes Guaranteed to Keep Everyone-Even the Meat Eaters-Fantastically Full
Fair Winds Press, 9781592334551, 272pp.
Publication Date: July 1, 2011
* Individual store prices may vary.
Description
"Hearty Vegan Meals for Monster Appetites is a feast of indulgent, decadent goodness. If you're looking for a salad recipe for your health-nut friends, this isn't the book for you. But if you're looking for the vegan answer to everything your meat-eating mouth has ever wanted, you've come to the right place."–Rory Freedman, author of the New York Times bestseller Skinny Bitch and more
"Feast your eyes on these gorgeous dishes, and then feast your tummy. Joni and Celine never disappoint!" –Isa Chandra Moskowitz, author of Veganomicon, Vegan with a Vengeance, Vegan Cupcakes Take Over the World, and more
"This book belongs on every bookshelf!"–Colleen Patrick-Goudreau, author of The Joy of Vegan Baking, The Vegan Table, Color Me Vegan, and The 30-Day Vegan Challenge
Calling All Insatiable Appetites!
To anyone who's ever thought "a meal without meat is a terrible thing to eat," we've got news for you: You're about to sink your teeth into some of the best food you've ever eaten. Food that happens to be vegan but is so full of hearty flavor and taste that even your non-vegan guests—and family members—will be left wondering if they just ate a meatless meal or a Thanksgiving feast.
Inside, you'll be treated to a vast collection of more than 200 "secret weapon" recipes from authors Celine Steen and Joni Marie Newman, two plant-based pros who know what it takes to wow the socks off of anyone with straight-up great food. From Banana Split Waffles to Ultimate Patty Melts, they'll show you (and your meat-loving guests) that eating vegan doesn't mean sacrificing flavor, but rather enhancing it using the natural flavors found in fruits, vegetables, grains, spices, herbs, and more.
Recipes include:
- Baked Cinnamon Sugar Donut Holes
- Hearty Breakfast Bowl
- Chocolate Stout Chili
- Sweet Potato Po' Boys
- Five-Cheese Baked Macaroni and Cheese
- Crispy Burritos con Carne
- Garlic Truffle Fries
- Sun Dried Tomato, Garlic, and Basil Flatbread
- Strawberry Cream Pretzel Pie
- White Chocolate Almond Bars
- Peanut Butter Rocky Road Pound Cakes
Whether you're looking to impress or indulge—or both!—Hearty Vegan Meals for Monster Appetites is your ultimate source for mean and mouthwatering eats at every meal.
About the Author
Celine Steen is the co-author of 500 Vegan Recipes, The Complete Guide to Vegan Food Substitutions, Hearty Vegan Meals, Vegan Sandwiches Save the Day!, Whole Grain Vegan Baking, The Great Vegan Protein Book, and the upcoming The Great Vegan Grains Book. She is the founder of the award-winning blog Have Cake, Will Travel (www.havecakewilltravel.com).Joni Marie Newman is the author of _<_
or
Not Currently Available for Direct Purchase