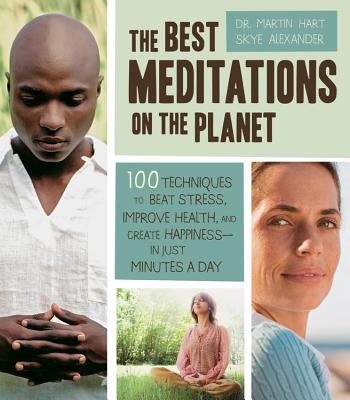 The Best Meditations on the Planet
100 Techniques to Beat Stress, Improve Health, and Create Happiness-In Just Minutes A Day
Paperback

* Individual store prices may vary.
Description
Rewire your brain for happiness, to bolster your immune system against illness, or release anxiety.

The Best Meditations on the Planet gives you 100 meditations that can be used to improve your emotional, mental, and physical well-being.

There are unique meditations for just about everything; like #23 Manage Anger by Disconnecting Your Buttons; #6 Release Stress at the End of the Day; or #51 Release Performance Anxiety.

If you've always wanted to reap the benefits of meditation but were concerned that it is too hard or takes too much time, we'll get you meditating and experiencing benefits immediately.
Praise For The Best Meditations on the Planet: 100 Techniques to Beat Stress, Improve Health, and Create Happiness-In Just Minutes A Day…
Normal0MicrosoftInternetExplorer4
"With The Best Meditations on the Planet we have a thoroughly modern, personally unique encyclopedia for specific meditations for physical, emotional and spiritual health and healing—for self and for the entire planet. This is the most comprehensive approach to practical meditation I have seen and enjoyed. I will be recommending it to everyone." — C. Norman Shealy, M.D., Ph.D., founder of the American Holistic Medical Association and president of Holos Institutes of Health
Fair Winds Press, 9781592334599, 240pp.
Publication Date: April 1, 2011
About the Author
Dr. Martin Hart is the founder and president of the American Society of Alternative Therapists (ASAT) and has been in counseling and alternative health education for thirty-five years. Since 1978, Dr. Hart has taught meditation both in the US and internationally, at some of the largest corporations in Asia, as well as top colleges and research facilities. He has certified more than 1,700 practitioners in his unique system of counseling and self-healing. His courses and workshops have been featured in the Wall Street Journal, the Boston Globe, the London Sunday Telegraph, and other publications. He has also appeared on national and international television and radio programs discussing his work.
Skye Alexander is the author of more than two dozen fiction and nonfiction books, including 10-Minute Feng Shui, The Care and Feeding of Your Chi, and The Reflexology Card Deck. Her first novel, Hidden Agenda, won the Kiss of Death Award for best book of romantic suspense. Her stories have appeared in numerous anthologies internationally, and her work has been translated into ten languages. She was also featured in the Discovery Channel TV special "Secret Stonehenge." After spending thirty-one years in Massachusetts, she now lives on a cattle ranch in the heart of Texas.
or
Not Currently Available for Direct Purchase